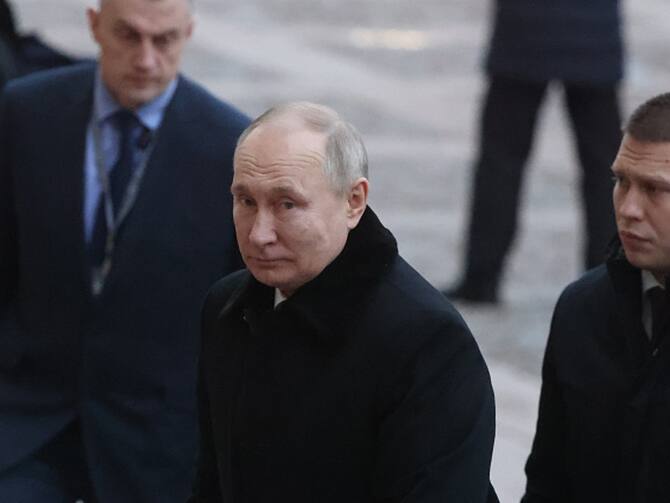 One former Russian diplomat was quoted in the report as saying that if President Putin felt threat to Russia's existence, "he will press the button."
Russia which is on backfoot has raised fear that it could use its nuclear arsenal to achieve a breakthorugh ( Image Source : Getty Images )
Russia which is on backfoot has raised fear that it could use its nuclear arsenal to achieve a breakthorugh ( Image Source : Getty Images )
Russia's February 24 invasion in Ukraine has renewed fear of nuclear war as Moscow currently is at the back foot raising fears that it could resort to its nuclear arsenal to achieve a breakthrough. Russia is among the five recognised nuclear weapons powers along with Britain, China, France and the United States who are also permanent UN Security Council members.
Since the invasion of Ukraine, Russian TV broadcasts have repeatedly discussed nuclear strikes on Western cities like Paris or New York, stated a report by AFP.
One former Russian diplomat was quoted in the report as saying that if President Putin felt threat to Russia's existence, "he will press the button."
The experts however still think that us of weapons remain "improbable".
"It's the first time a nuclear power has used its status to wage a conventional war under the shadow cast by nuclear weapons," Camille Grand, a former NATO deputy secretary-general told the news agency.
"One might have imagined that rogue states would adopt such an attitude, but suddenly it's one of the two major nuclear powers, a member of the UN Security Council," he added.
Putin has criticised the West for attempting to "tear apart" Russia.
"At the core of it all is the policy of our geopolitical opponents aiming to tear apart Russia, the historical Russia," Putin said.
"They have always tried to 'divide and conquer'… Our goal is something else — to unite the Russian people," he said.
By asserting that Ukrainians and Russians are one people and undermining Kyiv's sovereignty, Putin has utilised the idea of "historical Russia" to support his 10-month onslaught in Ukraine.
"We are acting in the right direction, we are protecting our national interests, the interests of our citizen, of our people," Putin said.