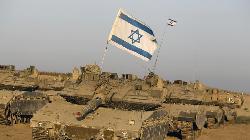 IANS
World News
2023-05-14 22:46
Jerusalem, May 15 (IANS) Israeli tanks fired shells into two Hamas posts in the Gaza Strip in response to a rocket fired at Israel amid a fragile truce after days of deadly fighting between Israel and the Palestinian Islamic Jihad (PIJ) group.
Israeli tanks "struck two military posts belonging to the Hamas organisation in the northern Gaza Strip," an Israeli military spokesperson said in a statement, adding that the fire was "a response" to a rocket launched earlier on Sunday evening from the Gaza Strip.
The rocket exploded in an open field in southern Israel, triggering sirens in communities in the vicinity of the Gaza Strip. No injuries or damage have been reported, Xinhua news agency reported.
No group claimed responsibility for the rocket but a source in the Joint Operations Room of the armed Palestinian factions in Gaza told Xinhua the rocket was fired due to a "technical error" and confirmed their commitment to the cease-fire.
The five-day confrontation started after an Israeli airstrike on Tuesday killed three senior PIJ leaders in the Gaza Strip.
During the fighting, Israel launched hundreds of airstrikes, killing at least 33 Palestinians and injuring more than 150 others, according to the Gaza-based Health Ministry.
Meanwhile, the Israeli military said that 1,469 rockets were launched toward Israel from Gaza, among which 1,139 hit Israeli territory.
According to Israel's Magen David Adom emergency medical service, two people were killed in Israel during the five-day conflict.