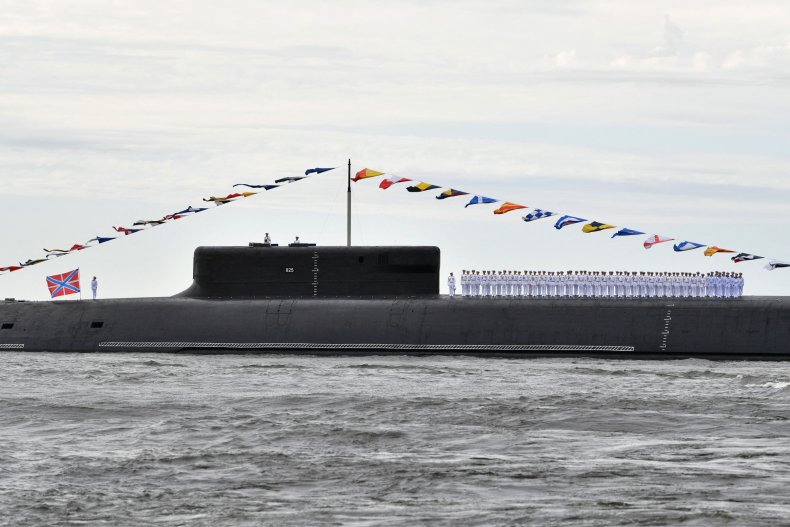 BY ISABEL VAN BRUGEN ON 5/15/23 AT 9:08 AM ED
Russia is working on a new underwater intercontinental ballistic missile (ICBM) that will eventually replace the Bulava, according to a media report.
Daily Russian newspaper Izvestia cited unnamed Defense Ministry sources as saying work is underway to begin the development of an intercontinental-range, submarine-launched ballistic missile.
The Russian Navy commands one of the most diverse submarine fleets in the world. Some are capable of carrying ballistic missiles with nuclear warheads, which Moscow considers key to its strategic deterrent. The nation has been working to improve its submarine fleet since the Kursk sank in 2000.
In July 2017, Russian President Vladimir Putin approved a new policy on naval operations until 2030, which highlights the Russian Navy's improved capabilities and its evolving strategic and operational role.
The policy notes that Russia's navy has "a high level of readiness for actions, including strikes on critically important enemy targets."
"With the development of high-precision weapons, the navy faces a qualitatively new objective: destruction of enemy's military and economic potential by striking its vital facilities from the sea."
The new underwater ICBM, which is reportedly in extremely early stages of development, will eventually replace the RSM-56 Bulava, according to Izvestia.
It cited Russia's Commander-in-Chief of the Navy, Admiral Nikolai Yevmenov, as saying previously that new missiles would have to be capable of overcoming all advanced missile defense systems "of any enemy," while providing high accuracy and an increased flight range from remote areas.
When completed, it should become the main armament of the future generation of strategic submarines, Russian Defense Ministry sources told the news outlet.
Sources told Izvestia that developers will begin working on the appearance and design of the new missile after documents are approved and coordinated with customers and contractors.
According to the Center for Strategic and International Studies, a Washington-based think tank, the submarine-launched Bulava, which is designed to carry a nuclear warhead, is currently a core component of Russia's future strategic nuclear force.
The Bulava was designed to be deployed on Russia's nuclear-powered Borey-class submarines, which can hold between 12 and 16 missiles.
Russia's Defense Ministry said in November 2022 that it fired a Bulava in the northern White Sea with a dummy payload as part of a test of a Borey-class submarine.
By 2030, the country "must possess powerful balanced fleets in all strategic areas," including ships intended to carry out missions in near and far sea zones and ocean areas, as well as naval aviation and coastal forces equipped with effective high-precision strike weapons, and advanced basing and supply systems, the 2017 policy states.