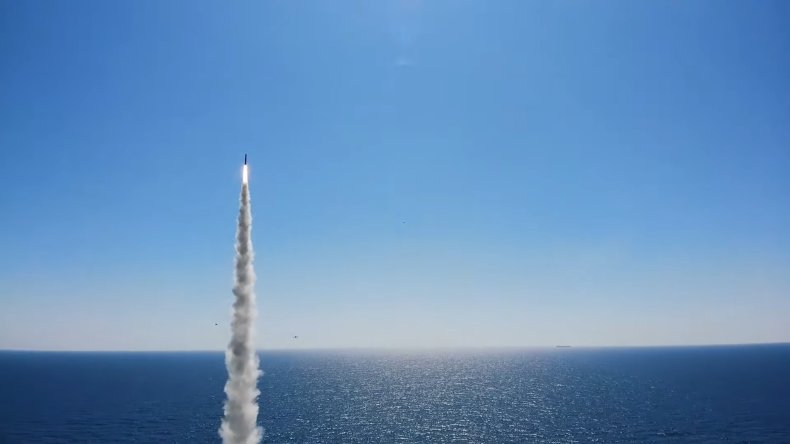 BY TOM O'CONNOR ON 4/7/22 AT 5:02 PM EDT
The United States has long sought to oppose efforts to expand the exclusive club of nuclear-armed nations, a small clique most recently joined 16 years year ago by North Korea. But as current members expand hone new capabilities and unrest plagues the international community, one or even two of Washington's own allies may seek to build a bomb of their own.
For decades, South Korea and Japan have lived under the umbrella of the U.S. nuclear arsenal, the second largest in the world after that of Cold War-era rival Russia, once again a top-priority foe after last month's incursion into Ukraine. Now, however, Seoul is revisiting its nuclear strategy in what would mark a massive shift in the security situation in Asia and the non-proliferation regime that has attempted to rein in such weapons of mass destruction across the globe.
Lami Kim, assistant professor at the U.S. Army War College's Department of National Security and Strategy, told Newsweek that "there are important differences between Ukraine and South Korea," as "Ukraine is not a U.S. ally, while South Korea has significant strategic importance for the U.S."
"That said, there has been a constant fear of abandonment by the U.S. among South Koreans, and what's happening in Ukraine has heightened this fear," added Kim, who also serves as a U.S.-Korea NextGen Scholar at the Center for Strategic and International Studies and an adjunct fellow at the Pacific Forum. "I believe that's strengthening their ambition for nuclear armament."
That ambition has roots that precede the Ukraine war. It was reflected in a poll published by the Chicago Council on February 21, three days before Putin's invasion, which showed up to 71% of South Koreans would support developing nuclear capabilities. Only just over half, around 56%, would seek U.S. nuclear weapons on their country's soil, and, if forced to choose, just 9% would accept U.S. nuclear weapons as opposed to 67% who backed an independent arsenal.
Kim helped author the survey, but she issued a caution about interpreting the results of the study, saying "we need to distinguish between popular sentiment and what the government will likely decide to do."
But if Seoul, emboldened by the election of new conservative leader Yoon Seok-yeol, did decide to embark on the path of developing nuclear arms, she said the consequences would be seismic.
"If the U.S. fails to prevent South Korea from acquiring nuclear weapons, that would ring a death knell to the international nonproliferation efforts," Kim said. "It is possible that Japan would follow suit and develop its own nuclear weapons."
Tokyo has been far more reluctant to embrace a nuclear future, particularly because it is the only country in the world that has ever been targeted by such weapons, and not just once, but twice — Hiroshima and Nagasaki in 1945.
But even in Japan, there is a growing push to review the three non-nuclear principles adopted half a century ago, as former Prime Minister Abe Shinzo called on lawmakers last month to consider hosting U.S. nuclear weapons.
"And if the U.S. accepts, or even promotes its allies' nuclear armament," Kim said, "its argument that other countries like Iran and North Korea shouldn't have nuclear weapons wouldn't carry any weight."
How the conflict raging in Europe influences these nuclear debates in South Korea and Japan "depends on the outcome of the war in Ukraine," according to Steve Fetter, an associate provost and dean at the University of Maryland's Graduate School, who is also a former member of the Director of National Intelligence's Science Board and Energy Department's Nuclear Energy Advisory Committee.
"If Russia does not achieve its objectives and is deterred from further armed conflict, and if the NATO alliance is strengthened, that should increase the confidence of Japan and South Korea in U.S. security guarantees and in our collective ability to resist coercion, deter armed conflict and decrease support for an independent nuclear capability," Fetter told Newsweek.
Both Japan and South Korea "have highly advanced scientific and technological capabilities, including extensive civilian nuclear industries," he said, and "either country could obtain nuclear weapons, if it chose to do so."
"Fortunately, both countries have demonstrated a strong commitment to nonproliferation and to remaining non-nuclear-weapon states," Fetter added. "U.S. security guarantees are an important foundation for this commitment."
But if NATO's success in backing Ukraine against Russia may assuage fears that help fuel a desire for an independent nuclear option, then the alliance's failure to do so may only exacerbate the concerns that are driving these trends. Moreover, developments even closer to home appear to be having a potentially even more potent effect, especially in South Korea.
"I believe that the war in Ukraine, along with North Korea's recent ICBM [intercontinental ballistic missile] testing, has had an indirect influence in reinforcing South Korea's belief that it needs to improve its strategic deterrence, namely through nuclear means," William Kim, a researcher at the Stimson Center's 38 North program with previous experience at the House Armed Services Committee, told Newsweek.
He said the popular support for a nuclear option in South Korea has "been reinforced" by "the heightened calls for South Korea's nuclear armament in response to the invasion," as well as last month's election of conservative leader Yoon, "who has advocated for the redeployment of U.S. tactical nuclear weapons to South Korea."
Russia Says Ukraine Crisis Must Not Reach Arctic, NATO Says It Already Has
Yoon's razor-thin victory, with a margin of less than 1%, has raised concerns of even more serious tensions returning to the Korean Peninsula. It could mark the end of an era of President Moon Jae-in's urgent attempts to make peace between two rival neighbors still technically at war since 1950.
But even under Moon's administration South Korea has expanded its military capabilities, forging a new deal with President Joe Biden last May that would lift long-standing limits on Seoul's ballistic missile development. In September, South Korea tested its first submarine-launched ballistic missile (SLBM), becoming the first non-nuclear power to do so.
The test came just hours after North Korea (officially the Democratic People's Republic of Korea – DPRK) fired two short-range ballistic missiles believed to have been launch from a railway-based platform, part of a series of tests showcasing various capabilities, including last month's ICBM test, the first of its kind since 2017.
In response to this most recent DPRK test, South Korea (officially the Republic of Korea -ROK) immediately ordered missile drills including land, air and sea platforms, suggesting a more assertive tone from Seoul even before Yoon entered the Blue House.
However, South Korea's hardline tactics are likely to be met in kind by North Korea. Just days after South Korean Defense Minister Suh Wook discussed the possibility of carrying out preemptive strikes against its foe, the DPRK's ruling Korean Workers' Party Central Committee Vice Department Director Kim Yo Jong, sister of Supreme Leader Kim Jong Un, issued two statements in which she warned Seoul should "discipline itself if it wants to stave off disaster," and threatened "a miserable fate little short of total destruction and ruin" if the situation escalated.
And in a rare move, she explicitly pointed out the "obvious contrast" between the countries, with North Korea, unlike South Korea, being "a nuclear weapons state," even though she insisted her words were rooted in "the fact that the north and the south of Korea are of the same nation who should not fight against each other."
Yoon's spokesperson, Kim Eun-hye, answered by defending Suh's comments, telling a press briefing Tuesday that "we will respond without the slightest error to North Korea's provocations and security threats."
With the new leader set to be sworn in next month, William Kim told Newsweek that "only time will tell whether President-elect Yoon Suk-yeol's comments in favor of nuclear armament of South Korea were an idea with real policy intent or just lip service to secure conservative voters in favor of nuclear options."
"However," he added, "it is more likely than not that the current security context of the world will reinforce his belief in strengthening the ROK's defense capabilities, either through conventional or nuclear means."
Should Seoul choose to do so, though, he said he was confident that it would not risk triggering the international isolation that has befallen Pyongyang.
"South Korea is too intertwined and embedded into the global economy — as a leader in critical industries like semiconductors and EV [electric vehicle] batteries — that even if it does pursue nuclear armament of any kind," William Kim argued, "it will try to do so within acceptable boundaries that do not invite sanctions or other aggressive responses from the rest of the world."
Jeong-Ho Roh, director of Columbia University's Center for Korean Studies, agreed with that assessment.
"One of the most important things we have to understand is nuclear weapons or nuclear programs, it's a legal issue, it's a matter of law," he said. "It's not a question of politics or others."
Three decades ago, the two Koreas agreed on the denuclearization of their shared peninsula in a joint declaration as the U.S. withdrew the nuclear weapons it had deployed on its ally's territory since the late 1950s. At that time, Pyongyang and Seoul were both parties to the Non-Proliferation Treaty (NPT), a 1968 agreement that sought to prevent the spread of nuclear weapons, but the DPRK withdrew from the treaty in 2003, three years before it conducted its first nuclear test.
Roh argued that North Korea's decision to pursue nuclear weapons has made their 1992 joint declaration "no longer valid legally." And even with the NPT in place, the International Court of Justice's advisory opinion on nuclear weapons published in 1996 ruled that there is no source of law, customary or treaty, that explicitly prohibits the possession or even use of nuclear weapons.
While the status quo has prevailed for some time given U.S. security commitments, a solidifying Chinese and Russian acceptance of North Korea's nuclear-capable moves, indicated by their lack of condemnation of the recent ICBM test, as well as growing uncertainties regarding the U.S. commitment to taking on nuclear powers directly, as evidenced by the war in Ukraine, has fostered what Roh identified as "the necessity for [South] Korea to be more self-sufficient."
"What happened this year is a direct reflection of this polarizing world," Roh said. "The legal institutions that were formed post-1945 and the U.N. that created our legal order has essentially been weakened."
Russia Wants Cyber Treaty 'Before It's Too Late,' US Hopes World Rejects It
Still, Roh felt that South Korea pursuing its own nuclear option was far less likely than reintroducing U.S. nuclear weapons to the country as part of a sharing agreement. The U.S. has similar agreements with non-nuclear NATO allies such as Belgium, Italy, Germany, the Netherlands and Turkey — yet another legal nuclear gray zone.
Such a move, he argued, would also be more tolerable or even beneficial to Japan, which would otherwise find a "nuclear South Korea" to be "not acceptable," even if Seoul took the semi-internationally endorsed "responsible" route like India as opposed to North Korea's "rogue" path.
Though both U.S. allies, Japan and South Korea have a difficult history with deep-seated conflicting narratives rooted in the former's occupation of the Korean Peninsula in the first half of the 20th century. Their inability to reconcile this past has led to high-profile diplomatic and political disputes, some ongoing to this day.
As such, Roh notes that "one of the other problems, of course, is: can Korea and Japan really cooperate with each other based on our unfortunate history?"
Another important aspect of the situation in the Asia-Pacific is what Roh calls "three hotspots" in the region, including the Korean Peninsula, the self-ruling island of Taiwan sought by an increasingly assertive China, and the lesser publicized territorial dispute between Japan and Russia over an island chain largely controlled by the latter but claimed in full by the former.
This feud has also left Moscow and Tokyo without a peace treaty since World War II, when fears of a Soviet invasion deeper into Japan played into the U.S. calculus to expedite victory through atomic warfare in the first place, thus avoiding the kind of division that took place in the Korean Peninsula, or even Germany.
Even as Russia deploys new weapons to these islands and Japan broadens its own conventional arsenal, however, Nakano Koichi, a professor at Sophia University in Tokyo, said that Japan's place in the "Far East" still made the conflict in Ukraine feel distant for most in the country.
"There certainly are plenty of conservative political, security, business, and media elites here that want to utilize the war in Ukraine to bury Japanese postwar pacifism once and for all," Nakano told Newsweek. "But the popular opinion remains divided at best, and in my view, still predominantly strongly antiwar."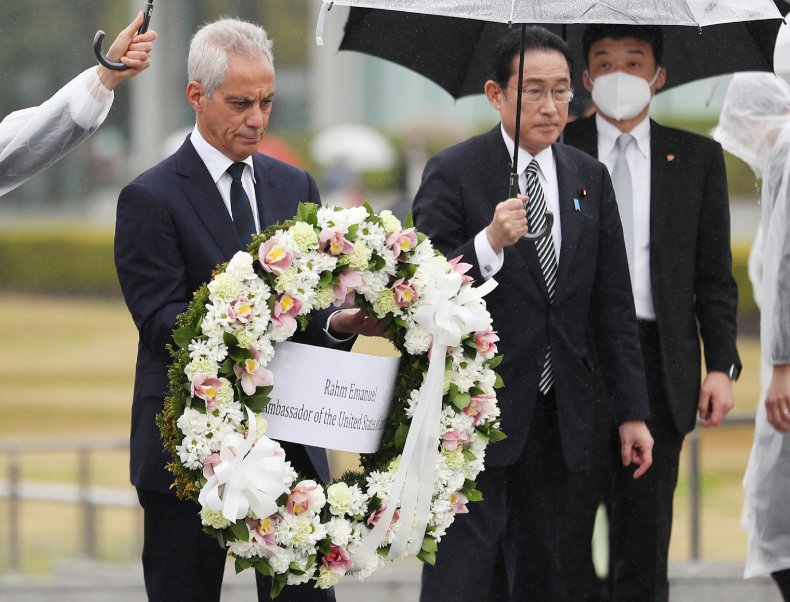 Among the U.N's 193 member states, only nine are known to have nuclear weapons. These include Russia and the U.S., which hold up to 90% of the world's arsenal, NATO members France and the United Kingdom, a rapidly developing China, neighboring rivals India and Pakistan, North Korea and Israel, which neither confirms nor denies its possession of such weapons.
Others to have explored nuclear capabilities include apartheid-era South Africa, Iraq under Saddam Hussein, who was toppled by the U.S. over ultimately false claims that he was in possession of weapons of mass destruction, and Libya under Muammar el-Qaddafi, who was overthrown in a NATO-backed rebellion years after securing a deal to shutter his program for better ties with the West.
Another country at the center of the nuclear debate is Iran, which has an advanced nuclear program that officials have repeatedly denied was intended to produce a weapon. Still, the Islamic Republic's efforts have resulted in intensive negotiations, as the Biden administration attempted to reenter a 2015 deal abandoned by then-President Donald Trump in 2018.
Now, as the war in Ukraine continues, even Russian ally Belarus has amended its law to potentially host Russian nuclear weapons as Minsk draws Western condemnation for its role in the conflict.
Ukraine also once possessed a massive nuclear stockpile during its time as part of the Soviet Union. When the USSR collapsed, the weapons were returned to Russia in exchange for economic and security assurances as part of a 1996 agreement. Though Kyiv never controlled the weapons, many today cite this as yet another example of how giving up nuclear weapons resulted in little benefit.
Sung-Yoon Lee, who serves as the Kim Koo-Korea Foundation Professor of Korean Studies and Assistant Professor at The Fletcher School at Tufts University, told Newsweek that the reality of recent international events meant we are living in "a very different world" than the one that previously restrained such nuclear steps.
"Today, we are past the prelude in this portentous five-act drama," he argued, one in which "it increasingly appears that there are few reasonable options for Seoul other than arming itself with nukes."
"While wiser folks may reverse this trajectory, I think we are nearing the end of Act 1," Lee said. "Act 5 will close the day with the opening of Japan's own nuclearization play, and the NPT by then will ring hollow. Can South Korea and Japan become 'responsible' nuclear powers, say, like the UK and France? Perhaps."
"But, while one has a fairly good idea of how Rambo 5 or Pyongyang's next post-provocation peace ploy may end," he added, "this, the South Korean nuclear drama, is a novel story whose ending is unknown."