By Joshua Berlinger, CNN
Updated 5:20 AM ET, Fri May 6, 2016(CNN)
Muqtada al-Sadr isn't an ayatollah.
He's not a general and he's not a politician, at least in the conventional sense. But with a single speech he can spark a protest that ends up in with hundreds of Iraqi Shiites storming their parliament. He's commanded a militia of thousands, some who fought and killed U.S. and Iraqi soldiers. And he's been on TIME Magazine's annual list of the 100 most influential people on the planet.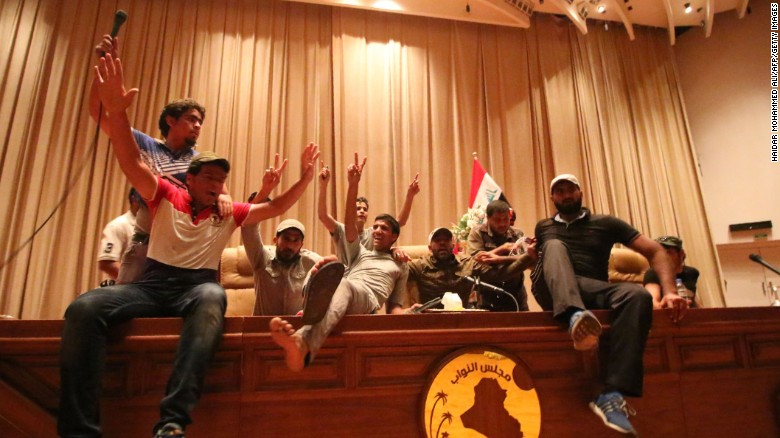 This is how he's managed to gain such prominence — and retain it.
The Sadr family
Sadr was born in 1973 in the Shiite holy city of Najaf to a prominent family.
The city, which is about 100 miles south of Baghdad, is home to the Imam Ali shrine, where the eponymous cousin and son-in-law of the prophet Muhammad is buried. Shiites believe that Ali was the rightful successor to Muhammad.
Sadr's father, Ayatollah Muhammad Sadiq al-Sadr, was an important Shiite figure in Iraq who openly spoke out against Saddam Hussein and his ruling Baath party.
The elder Sadr and two of his sons were assassinated in 1999 in Najaf, and many believe that he was killed either by the dictator's forces or Sunnis loyal to him.
Despite the cult of personality Muqtada al-Sadr has developed in recent years, he is still a relatively private man. He does not appear in public often and his exact age was not known until recently.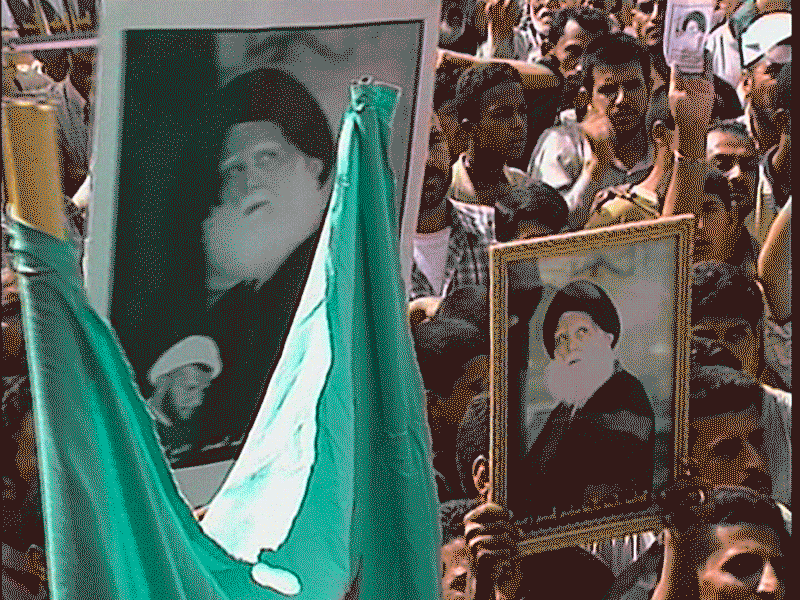 Protesters in Kadhimiya, Iraq, hold up pictures of Ayatollah Muhammad Sadiq al-Sadr, Muqtada al-Sadr's father.
The Mehdi Army
Sadr is best known to Western audiences for his role leading the Mehdi Army, which he formed in 2003 during the U.S. invasion of Iraq.
The militia is considered the armed wing of the Sadrist movement, which followed the teachings of Sadr's father. Its power base was in Najaf and the massive Sadr City in eastern Baghdad, which is home to more than 2 million Shias.
Sadr himself opposed the presence of outside forces in Iraq — be they al Qaeda's Sunni fighters or U.S. forces — and hoped to establish Islamic rule within the country, clashing with the Iraqi Army, U.S. forces and fellow Shias.
By 2004, forces loyal to Sadr battled the U.S. for control of Najaf. President George W. Bush labeled him an enemy and ordered the U.S. military to take him out.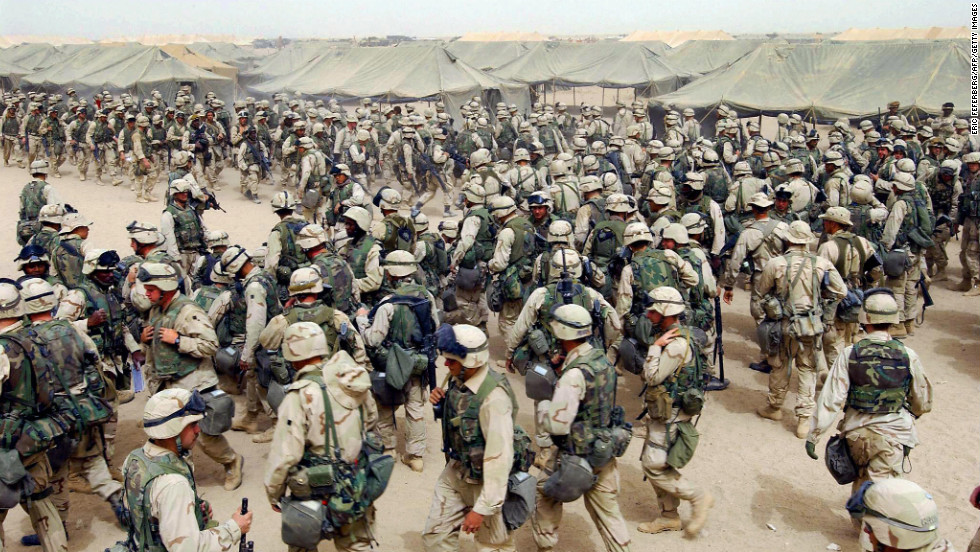 "We can't allow one man to change the course of the country," he said, according to Lt. Gen. Ricardo Sanchez.
Within a week, Bush changed course and decided not to go after him.
"That reversal was the turning point in al-Sadr's rise to power," Sanchez, who commanded U.S. forces in Iraq from 2003 to 2004, said. "It gave him legitimacy and enhanced his stature within the broader Iraqi community."
Later that year, Sadr made peace with the most powerful Shia religious figure in Iraq, Ayatollah Ali al-Sistani, who brokered a truce between U.S. forces and the Mehdi Army. The deal brought together the unquestioned spiritual leader of Iraq's Shia population and the man who could mobilize the Shia "street."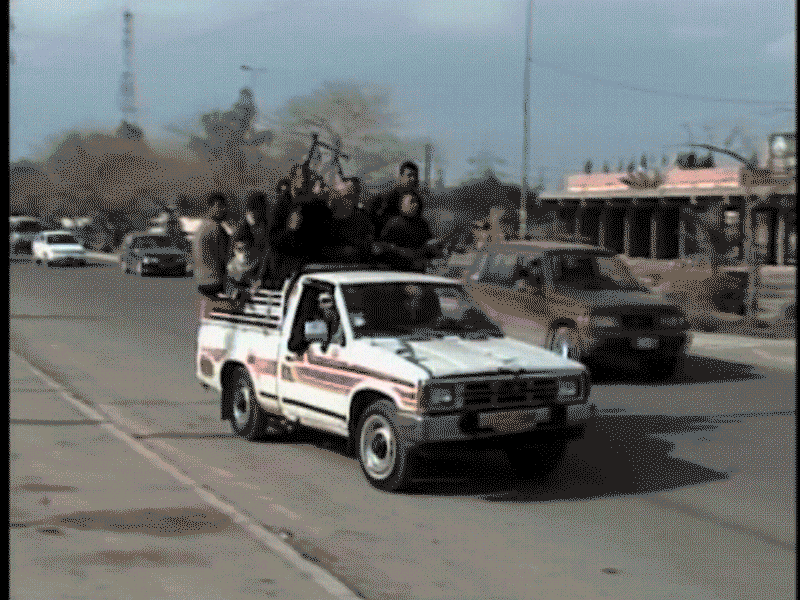 The Mehdi Army in Najaf in 2007.
As part of the agreement, the Iraqi government agreed not to press charges after a judge issued an arrest warrant for Sadr in connection with the killing of another prominent Shia leader, Ayatollah Abdul Majid al-Khoei.
But the Mehdi Army became even more deadly as the war dragged on.
The militia was linked to much of the sectarian violence that reached fever pitch in Iraq in 2006 and 2007. It was accused of running death squads, killing Sunni Arabs and fighting with rival Shiite factions, though Sadr would denounce the violence from time to time.
After more than 200 people were killed in an attack on Sadr City in 2006 — one of the deadliest periods in the Iraq war — Shiite militants responded by burning people to death and attacking Sunni mosques.
By the end of the year, Pentagon leaders assessed that the Mehdi army had replaced al Qaeda as "the most dangerous accelerant" of sectarian violence in Iraq.
But the Mehdi Army also clashed with other Shiite militias. The group often clashed with Badr Brigades for control of parts of Iraq's Shiite-dominate south. At one point the Badr Brigades partnered with Iraqi security forces to fight the Mehdi Army.
However, the Mehdi Army's power and influence began to subside by the end of 2007, in part due to the U.S. troop surge.
Kingmaker
Sadr's capacity to reinvent his role in Iraqi politics, and to tap into a strong vein of Shia protest, has helped him survive and outmaneuver many rivals over the past 13 years. His latest initiative reinforces his place as one of the most influential figures in Iraq.
He and the Iraqi government signed a ceasefire in 2008, and later that year he formally disbanded the Mehdi Army.
The organization is now called Saraya al-Salam, which means the Peace Brigades.
His plan was to transition it into a socio-political populist movement to help Iraq's poor Shiites through a combination of political and grassroots activities — following a similar model to the structure of Hezbollah in Lebanon.
Sadr would move to Iran later that year for religious study. Some believed that he hoped to achieve a higher religious standing, like Hezbollah's Hassan Nasrallah, in order to strengthen his leadership position.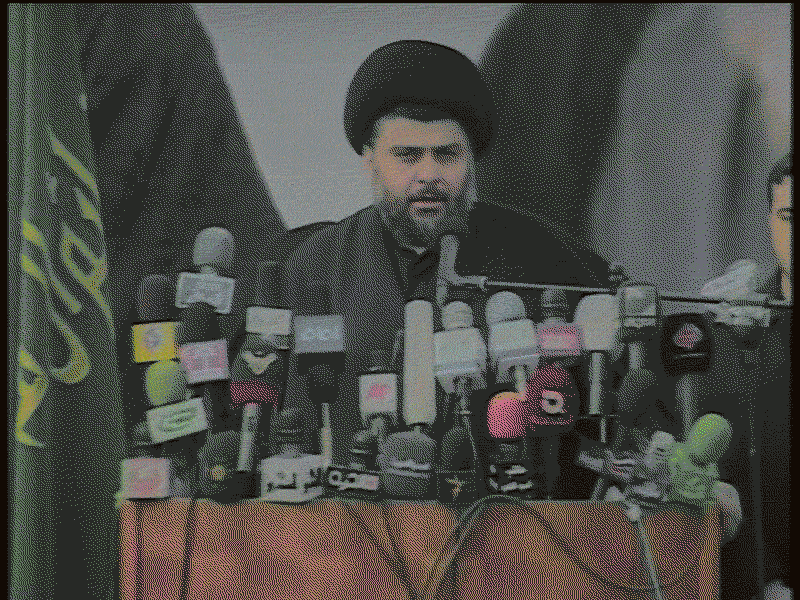 Muqtada al-Sadr delivers a speech in Najaf in 2011.
He returned to Iraq permanently in 2011 — more than three years later — without a new title, but with ambitions to become an Iraqi nationalist leader who could make a difference by growing his movement and pushing his followers to the ballot box.
"We have not forgotten the occupier. We remain a resistance," he said in one of his first speeches back. Sadr did strike a conciliatory tone with fellow Iraqis: "Whatever struggle happened between brothers, let us forget about it and turn the page forever and live united," he said. "We do not kill an Iraqi."
Though Sadr rarely makes public appearances, his plan seems to have worked so far.
During Iraq's 2010 elections, his supporters were key to helping then-Prime Minister Nuri al-Maliki secure a second term; today they make up the second-largest bloc in Iraq's Parliament.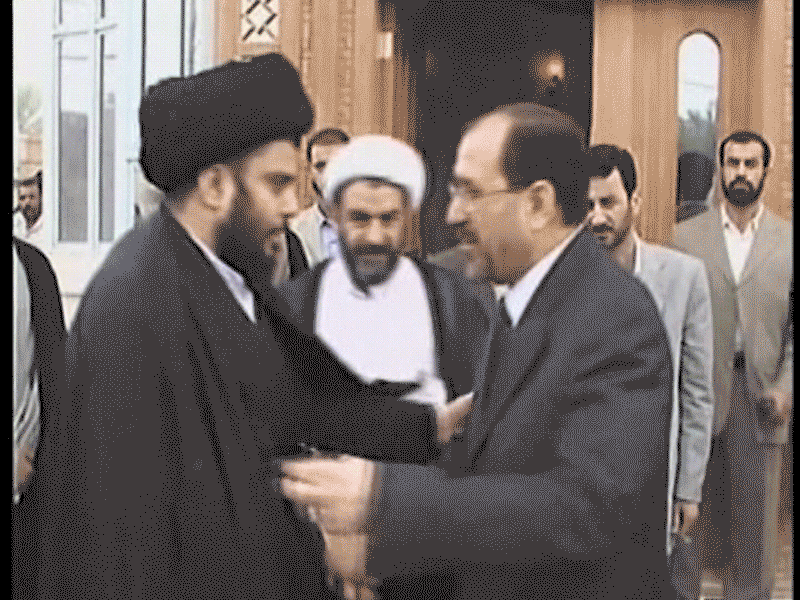 Muqtada al-Sadr and former Iraqi Prime Minister Nuri al-Maliki in 2006.
But Sadr and Maliki have since had a nasty falling out, and now are considered rivals in Baghdad.
After the 2010 election, Sadr referred to Maliki as a "dictator."
He often called for the government to better include moderate Sunni elements, a faction that most say was marginalized by the Maliki government, which led to his ouster (and in part contributed to the rise of ISIS).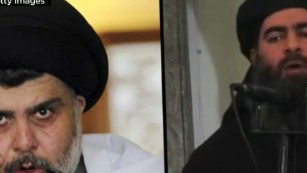 His support for Iraq's current Prime Minster, Haider al-Abadi, is lukewarm at best.
Sadr is now focusing his efforts on reshaping Iraq's government — he wants more technocrats appointed and to go after corrupt politicians.
Sadr's supporters held massive protests earlier this year to push Abadi to form a new government and enact reforms. The demonstrations were called off after Abadi trimmed the size of his Cabinet and submitted a new list of nonpolitical ministers for approval by parliament.
And it was Sadr's impassioned speech late April that spurred protesters to occupy the Iraqi Parliament and Baghdad's Green Zone, a normally off-limits area housing government buildings and foreign embassies.
CNN's Tim Lister, Hamdi Alkhshali, Mohammed Tawfeeq and Elise Labott contributed to this report