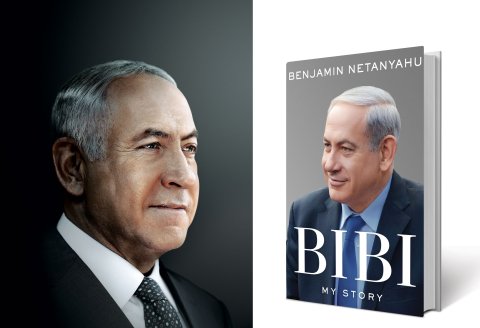 BY BENJAMIN NETANYAHU ON 10/24/22 AT 5:00 AM EDT
Benjamin Netanyahu is the longest-serving Israeli prime minister, from 1996–1999 and 2009–2021, and is now facing another election as head of the Likud party on November 1. In his new, wide-ranging autobiography, Bibi: My Story(Threshold Editions), Netanyahu shares details from his brother's death at Entebbe; his personal and political relationships; his negotiations with Presidents Bill Clinton, Barack Obama and Donald Trump over the Arab-Israeli conflict, Iran and the Abraham Accords; how Israel secured some of the first doses of the Pfizer COVID-19 vaccine; accusations of corruption and much more. Through his long career, Netanyahu's brand of Israeli security has often brought him into conflict with others—his famously tense dealings with Obama among them. This exclusive excerpt from Netanyahu's new autobiography offers a window into a flashpoint in their relationship—the Iran nuclear program. It shows how the red line Netanyahu drew set the stage for continued conflict between the U.S. and Israel on the Joint Comprehensive Plan of Action (JCPOA)—or Iranian nuclear deal—that Obama ultimately signed in 2015 and from which Donald Trump withdrew three years later.
On March 5, 2012, I met President Barack Obama in the Oval Office. Reviewing the deteriorating situation in Syria under its dictator, Bashar Assad, son of the previous dictator, Hafez Assad, Secretary of State Hillary Clinton said, "Apparently Bashar's mother is telling him, 'Your father would have done this, your father would have done that.'"
"I didn't know Bashar had a Jewish mother," I said, and then, looking at Secretary of Defense Leon Panetta, I corrected myself: "Sorry, an Italian mother." (Actually, except for my education, my mother never nudged me on anything.)
Everybody laughed, Leon the loudest. A former congressman, he was savvy and down-to-earth, lacking any of the ideological antipathies that animated many of his colleagues. He liked Israel, and I liked him.
The atmosphere softened, but only a little. Our conversation centered mostly on Iran. My intention was to move the U.S. to a tougher stance while maintaining our right to attack Iran's nuclear facilities. Obama assured me he was building a military capacity and said that it should be given a chance to work.
"I strongly believe a preemptive strike would be a mistake," he said. "Iran is weak. We will lose legitimacy and oil prices will spike. An Israeli attack would not achieve anything. In six to nine months, maybe the world will recognize the need for action."
He was clearly trying to get me to kick the can forward and postpone any action until after the presidential election in November 2012.
"I am the prime minister, you are the president," I said. "If I were in your shoes, I would probably think like you. But you are big and we are small. Acting early for me is not a question of trust in you; it's a question of my responsibility as the leader of Israel. In matters of survival and security, Israeli prime ministers often disagree with American presidents."
I described how Ben-Gurion disagreed with Secretary of State George Marshall on declaring Israel's independence, Eshkol disagreed with Lyndon Johnson on the Six-Day War and Begin disagreed with Ronald Reagan on the need to destroy Saddam's nuclear reactor.
"I've recently been to the Villa Wannsee near Berlin, where the Nazis held the conference to coordinate the Final Solution," I said. "We're not going back to the brink of annihilation. Iran says Israel is a one-bomb country. They believe that with nuclear weapons they can wipe us out. We will act if there is no choice, with or without your support. In the meantime I believe it's important that you put forward clear demands on Iran to stop enriching uranium and to dismantle the Qom facility."
Obama responded by saying that if we attacked, the sanctions he had orchestrated would collapse. He explained that the reason so many countries agreed to them was that the U.S. told them the alternative was Israeli military action. If Israel acted, these countries would immediately lift all sanctions.
I had heard this before. Once again Obama minimized the power of America and chose to "lead from behind." It was clear to me that if countries had to choose between doing business with the small Iranian economy or the $20 trillion American economy they would choose the latter. If the United States maintained sanctions following an Israeli attack, other countries would maintain them, too.
"I haven't yet decided to act militarily," I told Obama. "But I want you to know that I reserve the full right to do so."
"I can't decide that for you," he answered. "I can only tell you what I think: it would be a mistake."
"I hear you," I said. "But I didn't come here to get a green light."
In consultation with Defense Minister Ehud Barak, we postponed the decision on a potential strike by a few months.
Blinding Daylight
As the months passed by during 2012, Obama sent a string of envoys to try to convince me not to act militarily. The balance of American policy was to avoid concrete action, and even more than that, to make sure that I avoided it.
Administration spokespersons constantly briefed against the wisdom and efficacy of such an attack. On August 30, 2012, General Martin Dempsey, the chairman of the Joint Chiefs of Staff, went further, saying, "The U.S. will not be complicit in any Israeli action."
His choice of words outraged me. It both imputed an illegitimate, even criminal, nature to a potential Israeli action and signaled to Iran that the United States did not support Israel.
This was putting blinding daylight between the U.S. and Israel. What better way to reassure Iran that it was not in any danger if it continued to pursue its nuclear program?
Worse signals of America's passivity would soon follow. On the eve of the 11th anniversary of 9/11, I said on Bloomberg Television: "Iran will not stop unless it sees a clear determination by the democratic countries and a clear red line. They don't see a clear red line and I think the sooner we establish one, the greater the chances that there won't be a need for other types of action."
Barely a few hours passed before Secretary of State Clinton, while being interviewed on Canadian television, said emphatically, clearly in response to me, "The U.S. is not setting deadlines for Iran."
Stunned by the speed in which the American administration rushed to distance themselves from Israel and assuage Iran's fears, we briefed the press: "Without a clear red line Iran will not cease its race toward a nuclear weapon."
The next day, September 11, I used a press conference during a visit by the Bulgarian prime minister, Boyko Borisov, to push back with my own words.
"The world tells Israel, 'Wait, there's still time,'" I said. "And I say, 'Wait for what? Wait until when?' Those in the international community who refuse to put red lines before Iran don't have a moral right to place a red light before Israel.
https://0f03366ee380847ca5ae6306a78703a5.safeframe.googlesyndication.com/safeframe/1-0-40/html/container.html
"If Iran knows that there is no red line and no deadline, what will it do? Exactly what it's doing. It's continuing, without any interference, toward obtaining nuclear bombs."
'Work With Me on This'
I had a challenging phone call with Obama following my speech. My agenda was clear—get tough on Iran. Obama's agenda was centered on something else—making sure I didn't meet with Republican presidential candidate Mitt Romney when I came to the U.N. a few days later.
A month earlier, Ron Dermer—whom I had appointed as Israel's ambassador to Washington in 2013—told Dan Shapiro, who had been appointed U.S. ambassador to Israel, that in my coming visit to the U.N. I would want to see Obama. Obama didn't want to have the meeting, believing it would prompt a parallel meeting with Romney, who had asked to meet me when I came to the U.S. At the same time, Obama did not want it to look like he was snubbing me so close to the election.
He argued that meeting opposing presidential candidates so close to an election would politicize the discussions. I thought differently. I wasn't concerned with politics but rather with Israel's survival. I had already met with Romney in July when he visited Israel, as I had done with Obama when he visited Israel as a presidential candidate. And four years later I met with both candidate Donald Trump and candidate Hillary Clinton on the eve of the 2016 elections. I spoke to both about Iran.
But now I felt boxed in by a direct plea from the president of the United States.
"C'mon, man, work with me on this," he said.
His plea was so direct and so candid that I was left with little choice. Would I force upon the president of the United States a meeting he didn't want?
https://0f03366ee380847ca5ae6306a78703a5.safeframe.googlesyndication.com/safeframe/1-0-40/html/container.html
I instructed National Security Advisor Yaakov Amidror to tell the press that we hadn't asked for a meeting with Obama, even though Dermer had. Amidror said it was the only time he had lied in all his years of public service. I offered a lame excuse to Mitt Romney on why we couldn't meet. He accepted it graciously.
In my September 11 phone conversation with Obama, I weighed in on the statements by Hillary and General Dempsey.
"These statements convey that the U.S. has no deadline and undermine Israel's right to self-defense. The number one terror regime in the world calls for the annihilation of my country and my people, and most of the criticism is reserved for whether Israel should act or not act."
Obama pushed back on this: "We've imposed the toughest sanctions ever on Iran. The idea that we're spending more time convincing Israel not to act than on Iran is not true. Some of the concerns we raised were raised by your military people, too."
Ouch! I had wondered when he would get to that one.
"We don't need to get into the deliberations of our military but they are more nuanced than that," I said. "At least they don't speak out publicly, while the head of your military did speak out against us, which is extraordinary."
But my main point was reserved for something else.
"I believe that if Iran sees a clear red line, they will not cross it," I said to the president.
"I can't give a red line," he replied, "that says that if they have X amount of centrifuges on Y date, then I'd bomb a week later. The red line I gave is no nuclear weapons."
That, I thought, would be too late.
When the conversation ended, I put the phone down and looked at my staff.
"I guess we have no choice," I said. "We'll have to be the ones to draw the red line. We'll do that when I next speak at the U.N."
Drawing the Line
We had two weeks to prepare. The most important question was, Where do you draw the line? Iran had two hundred kilograms of low-enriched uranium at the 3 percent level. If it crossed the 20 percent enrichment level we would be in the danger zone. The time it takes to enrich uranium to bomb-grade quality shrinks rapidly after 20 percent. Once there, Iran would be 90 percent of the way to having enough enriched uranium for a bomb. That is where I would draw the red line.
The next question was how to present this red line visually. Answer: by actually drawing a red line.
This suggestion came from Gary Ginsberg, an American whom I had gotten to know a few years earlier through a mutual friend. A lawyer by training, Gary had worked with both Bill Clinton and Rupert Murdoch.
He knew politics and he knew the media. Politically moderate, he would sometimes temper my words, yet at other times he could toughen them. He had an uncommon ear for language and an uncommon ability to weed out imprecision.
Gary's first suggestion was that I physically draw the bomb while standing on the podium. After some quick trials I passed on that idea. I would have the bomb diagram prepared in advance.
I settled on a drawing of an old-style bomb topped by a caricature fuse at the top. Dermer, Gary and my spokesman Mark Regev broke out in laughter.
"That looks like the bomb that Wile E. Coyote would use against the Road Runner," Ron said.
"Beep-beep," I responded.
The staff got me the thickest red marker I had ever seen. I practiced drawing a line underneath the fuse while holding the diagram toward the audience. It folded in two so I could bring it unnoticed into the General Assembly, where props weren't allowed.
What the hell, I thought. Who's going to stop me?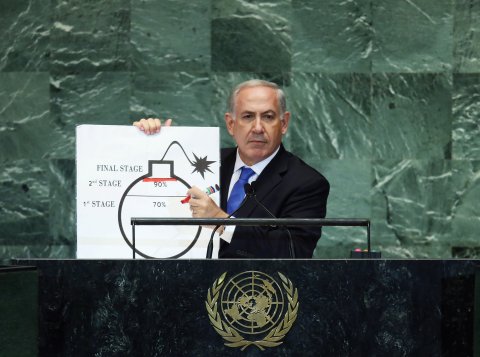 The U.N. speech was carried by television channels worldwide. The front page of most of the leading newspapers in the world featured a photo of me holding the diagram on the U.N. podium. A zillion memes blossomed mocking the bomb presentation. This was fine with me. As long as they got my red line right.
An especially warm response came from an avid listener of my U.N. speeches, the towering U.N. security officer Matthew Sullivan. After each speech he would offer his candid opinion. Commenting a few years later on another one of my U.N. speeches, he said, "It was okay, but I liked your red line speech better."
While I appreciated the feedback, my most important audience was the tyrants of Tehran.
The red line held for seven years.