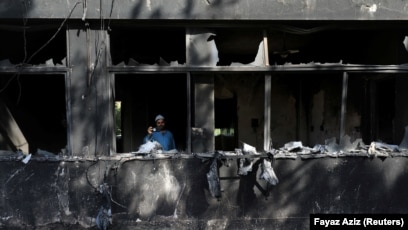 Since he was ousted as prime minister, Imran Khan has waged an unprecedented campaign against Pakistan's powerful military, accusing the institution of conspiring to oust him from power and then plotting to assassinate him.
The public tussle has fueled a yearlong political crisis that deepened when Khan was arrested on graft charges on May 9, triggering deadly protests across the South Asian nation of some 220 million people.
Experts have warned that the political turmoil could aggravate a severe economic crisis and exacerbate insecurity in Pakistan.
"Pakistan is now facing a major systemic crisis," said Farzana Shaikh, a Pakistan expert at the Chatham House think tank in London. "Pakistan is no stranger to crisis, but the scale and the simultaneity of this one has accentuated its scope."
Shaikh said nuclear-armed Pakistan, the world's fifth most populous country, was long considered too big to fail. But that view could be shifting, she said.
At least 10 people have been killed in clashes between supporters of Khan's Pakistan Tehrik-e Insaf (PTI) party and government security forces. Protesters have also attacked military installations and burned government buildings, prompting the government of Prime Minister Shehbaz Sharif to call in the army to help restore order.
Pakistan's army, which has an oversized role in the country's domestic and foreign affairs, issued a warning on May 11, saying it would take action against those it said were looking to push the country toward a "civil war."
Khan on May 12 was granted release on bail for two weeks by judges in Pakistan's capital, Islamabad, a day after the Supreme Court ruled that his arrest was unlawful.
But the former cricket star-turned-Islamist politician faces more than 100 legal cases and could be rearrested by the authorities, a move that could trigger more unrest.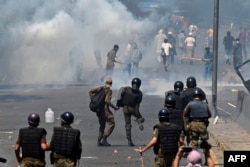 The political turmoil is likely to worsen the deepening economic crisis in Pakistan, which is grappling with soaring inflation as well as rising poverty and unemployment.
The cash-strapped nation is at risk of a default. The International Monitory Fund has delayed a loan to Islamabad for months, demanding immediate reforms.
Pakistan is also struggling to contain attacks by militant and separatist groups. The Tehrik-e Taliban Pakistan (TTP) extremist group has intensified its insurgency against Islamabad in recent years, carrying out deadly attacks in major cities.
Underscoring the deteriorating security situation, two Pakistani soldiers were killed and three wounded on May 12 when suspected militants attacked a security post in the restive southwestern province of Balochistan.
'Divided Institutions'
Since Khan lost a no-conference vote in April 2022, he has agitated for early elections, which the ruling government has rejected.
The 70-year-old's ouster came after he fell out with the military, which was widely accused of bringing Khan to power through a rigged general election in 2018, an allegation denied by both parties.
Observers say the army has since thrown its support behind Sharif and his coalition government, which includes figures from the major political parties. Known as an effective administrator and a pragmatist, Sharif has amicable ties with the military.
Senior government leaders have accused the judiciary of siding with Khan, who still retains significant support inside the country.

"Divided institutions will [only] weaken Pakistan," said Ayesha Siddiqa, a Pakistan security expert at the University of London.

Siddiqa said the immediate collapse of the country is unlikely, although she foresees a gradual deterioration.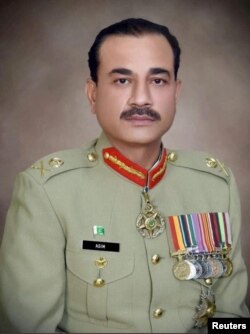 "People are more skeptical of the state, and there will be less faith in it in the future," she said.
There has been speculation that the military could impose martial law. The army has staged three coups in the country's 76-year history. Even during civilian rule, the military has often assumed the role of kingmaker.
But observers say the current army chief, General Asim Munir, is unlikely to impose military rule given divisions in the institution. Some within the military are believed to support Khan.
Siddiqa says Pakistan is currently ruled by a weak civilian government overshadowed by the military. In the future, she said, the army could take full control, in an arrangement she describes as a "hybrid regime on steroids."
Given the fractured political landscape, further turmoil in the country is likely in the future.
"I don't see Pakistan jelling together," Siddiqa said.
Abubakar Siddique, a journalist for RFE/RL's Radio Azadi, specializes in the coverage of Afghanistan and Pakistan. He is the author of The Pashtun Question: The Unresolved Key To The Future Of Pakistan And Afghanistan. He is also one of the authors of the Azadi Briefing, a weekly newsletter that unpacks the key issues in Afghanistan.