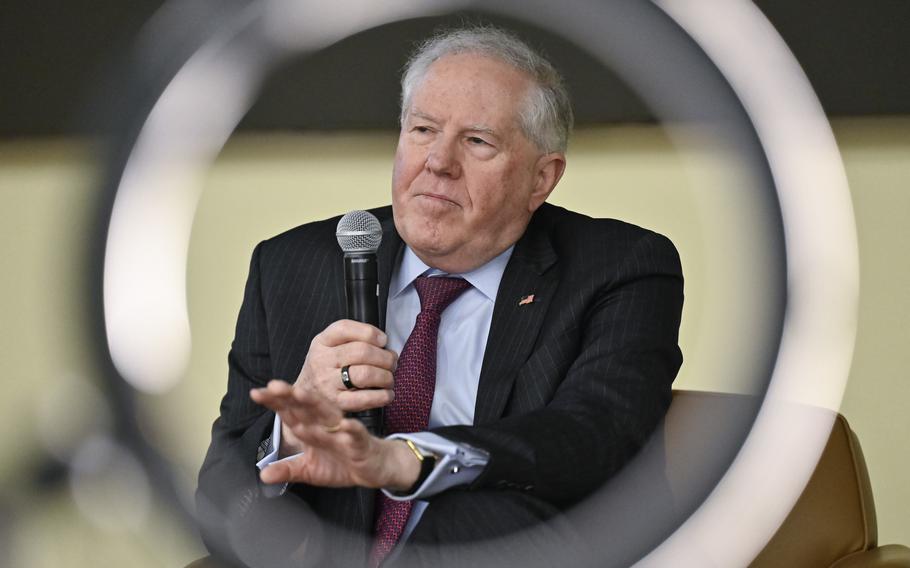 By
COREY DICKSTEIN
STARS AND STRIPES • March 28, 2023
Air Force Secretary Frank Kendall told lawmakers Tuesday that increased efforts by China to rapidly expand its inventories of nuclear weapons worries him more than anything he has seen in his long national security career.
"I don't think I've seen anything more disturbing in my career than the Chinese ongoing expansion of their nuclear force," Kendall, a former Army officer who has spent decades in Pentagon and other national security roles, told House appropriators during a hearing on Capitol Hill.
The Pentagon warned in a November report that China was working to nearly quadruple its inventory of nuclear warheads by 2035. China now holds about 400 nuclear warheads and seeks to grow that number to 700 within a few years and to 1,500 by 2035, according to the Pentagon. The United States had about 3,750 active nuclear warheads as of 2020, the last time the federal government released such information to the public. Russia is believed to hold about 4,500 nuclear weapons, according to the Arms Control Association, a Washington-based nonpartisan organization that publishes information about international arms control policy.
The Pentagon in recent years has named China its "pacing challenge," labeling Beijing's efforts to expand its military capabilities and grow its influence across southeast Asia and into other regions as the Defense Department's top concern. Of all of China's efforts to boost its power, Kendall said Tuesday that its nuclear ambitions could have the greatest impact on global security.
"For decades, they were quite comfortable with an arsenal of a few hundred nuclear weapons, which was fairly clearly a second-strike capability to act as a deterrent," Kendall told lawmakers during a hearing to defend the Air Force Department's roughly $215 billion fiscal 2024 budget request. "That expansion that they're undertaking puts us into a new world that we've never lived in before, where you have three powers — three great powers, essentially — with large arsenals of nuclear weapons."
The United States and Russia for years have held the vast majority of the world's nuclear weapons. Tensions between Washington and Moscow have increased recently after Russia's invasion of Ukraine and its announced suspension from complying with the New START treaty, the last agreement between the two powers to regulate nuclear arsenals.
Kendall, who served in various national security roles during the Cold War, said the United States and the then-Soviet Union "came close a couple of times" to nuclear war, but it was ultimately averted via high-level communication between the powers.
China, Russia and the United States, he said, now need to establish communication norms on nuclear issues, warning of growing instabilities among the top nuclear powers.
"Russia's latest move on the New START treaty is not helping — it's going in the wrong direction," Kendall said. "Nobody wants a nuclear war. We do not want to go back to that [Cold War] world of 30 years ago. I thought we would never be in this position again, and here we are. So, we need to be wise. We really need to start talking to them."
Kendall implored lawmakers to fully fund the Air Force's top priorities, which include billions of dollars for development of its next generation of nuclear capabilities, including the B-21 Raider bomber and the Sentinel intercontinental ballistic missiles. He said it was critical lawmakers pass a 2024 budget on time for the first time in years, in part to counter China's growing military threat.
Some $5 billion of the Air Force's 2024 budget proposal funds efforts specifically focused on countering China's military capabilities, he said. The budget request also includes more than one dozen new programs that cannot begin without an enacted fiscal 2024 budget and authorizations bill, Kendall said.
"We must develop, produce and field [those new programs] if we desire to maintain the air and space superiority that America and our allies have counted on for decades," he said. "In order to proceed with any of these programs, the Department of the Air Force needs timely authorizations and appropriations."
Without them, he warned, China would continue to improve its military, while U.S. combat capabilities could erode.
"War [with China] is not inevitable," he said. "But successfully deterring conflict is heavily dependent on our military capabilities."
Corey Dickstein covers the military in the U.S. southeast. He joined the Stars and Stripes staff in 2015 and covered the Pentagon for more than five years. He previously covered the military for the Savannah Morning News in Georgia. Dickstein holds a journalism degree from Georgia College & State University and has been recognized with several national and regional awards for his reporting and photography. He is based in Atlanta.