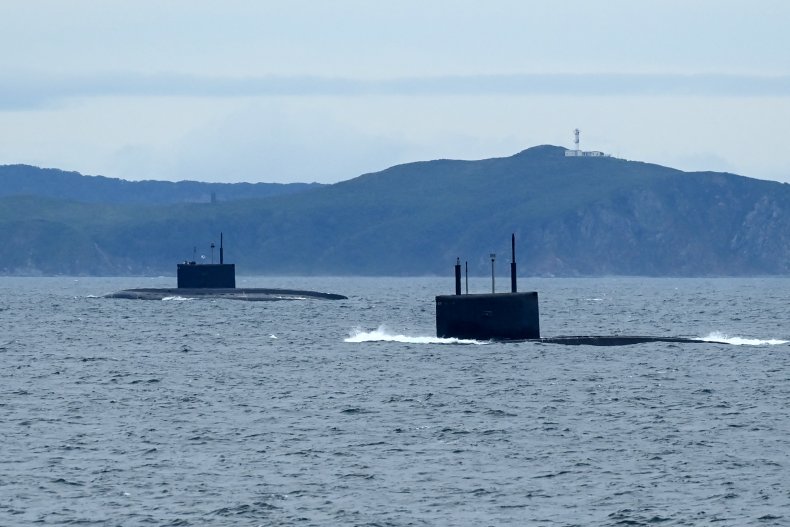 Russia Should Unleash Nuclear Torpedo on the U.S., State TV Says
By Brendan Cole On 3/14/23 at 11:20 AM EDT
A discussion on Russian state television raised the prospect of Moscow deploying missiles to target countries that are supporting Ukraine.
On the Russia 1 channel, retired Russian general Yevgeny Buzhinsky suggested that weapons such as the Poseidon and Burevestnik missiles should be used against the West even if the latter would not be ready for service until "the next year or two."
"However, Poseidon has already been tested," he said, which prompted anchor Vladimir Solovyov to say that he would like to see it in action. "We would like to of course," Buzhinsky responded.
Russian state agencies reported in January that the first set of Poseidon nuclear-capable super torpedoes was being developed for deployment on the Belgorod nuclear submarine. First announced by Vladimir Putin in 2018, United States and Russian officials have both described Poseidon as being capable of triggering radioactive ocean swells to render coastal cities uninhabitable.
Guests on the show Evening with Vladimir Solovyovhave made repeated threats about Russia's nuclear capabilities while framing Putin's invasion of Ukraine as a proxy war between Moscow and NATO.
Solovyov said that he'd like to "see Sarmat in action too," referring to the hypersonic nuclear-capable missile code-named "Satan 2" which Putin has also boasted about. "If they are impudent," he said, describing the actions of western countries, "we'll see it in action."
Buzhinsky warned viewers that further involvement of western countries in Ukraine could mean that it will "all end with Poseidon and a tsunami, a 300 or 500-meter wave." Solovyov interrupted to say, "and then Great Britain will be no more."
"Yes, Great Britain will definitely be no more, I'm talking about the United States," said Buzhinsky, to which Solovyov joked: "If [ Rishi] Sunak is washed away, who will [Emmanuel] Macron have left to kiss," referring to the close ties between the British prime minister and the French president.
Margarita Simonyan, the head of RT channel, brought up Canadian Prime Minister Justin Trudeauin the conversation, saying the Russian phrase "opyat s Trudeau," which translates to English as "with Trudeau again."
"Opyat s Trudeau" is a play on the Russian phrase "Opyat s trudom," which means "with difficulty again," as Solovyov pointed out. Both he and Simonyan laughed at the pun.
The apocalyptic yet somehow light-hearted banter was tweeted out on Tuesday by Francis Scarr of BBC Monitoring, who called the Evening with Vladimir Solovyov interaction "another totally normal evening on Russian state TV" in which the guests and anchor were "fantasising" about "a nuclear tsunami that engulfs Britain."