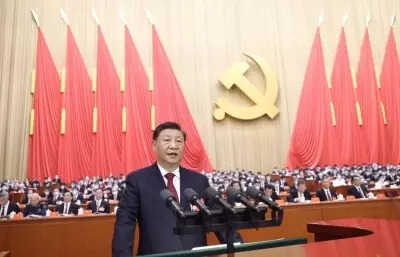 China's nuclear warheads are likely to increase to 550 in 2027, and to 900 in 2035, sources noted as per a news report.
Updated Feb 13, 2023 | 12:40 PM IST
Chinese President Xi Jinping
Photo : IANSHINDI
Beijing: China is likely to triple its stock of nuclear warheads by 2035 amidst soaring tensions with the United States over Taiwan, claimed a report by Kyodo News that cited a source close to the matter. The report, citing Chinese sources, added that the blueprint, prepared by the People's Liberation Army (PLA), has been approved by President Xi Jinping, as per ANI. Notably, the current stockpile is estimated to be more than 400.
China's nuclear warheads are likely to increase to 550 in 2027, and to 900 in 2035, the sources noted as per the news report.
Notably, a Pentagon report in December 2022 claimed that China is likely to have a stock of about 1,500 nuclear warheads by 2035. Pentagon, in its annual report to the Congress on China's ambitious military buildup, noted that 'Beijing's current nuclear modernisation exercise has exceeded the previous modernisation attempts in both scale and complexity'.
In response to the Pentagon report, China's defence ministry slammed the US calling it a 'trouble maker'. Chinese defence ministry called the report mere speculation. 'United States was gesticulating and absurdly guessing about the modernisation of China's nuclear forces,' read a statement by the Chinese defence ministry.
It is important to note here that already strained relations between China and the US deteriorated even further when US House Speaker Nancy Pelosi visited Taiwan in August.
Fears have been growing about a plausible attempt by China to exert control over Taiwan, which the former claims as its own territory.
China has stepped up diplomatic, military and economic pressure in recent years on Taiwan. The Taiwanese government has, time and again said it wants peace but will defend itself if the need arises.
Notably, China frequently opposes official exchanges with Taiwan and has reacted with condemnation to visits by Western politicians to the self-governed island.