January 13, 2023
President Yoon Suk-yeol said on Wednesday that if nuclear threats from Pyongyang grow South Korea would either build nuclear weapons or ask the US to deploy them again on the peninsula
South Korean president Yoon Suk-yeol warned on Wednesday that if the nuclear threat from Pyongyang grows his country would either build nuclear weapons or ask the US to deploy them again on the Korean Peninsula, according to a report by the New York Times, which noted that the US withdrew its nukes from the south in 1991 as part of arms reduction efforts.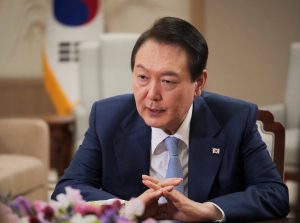 A transcript of Yoon's comments released by his office said nuclear weapons were not an official policy yet as it had signed the Nuclear Nonproliferation Treaty, but with the US and Seoul expecting the North to conduct a seventh nuclear test shortly, South Korea was prepared to reintroduce them, and "we can have our own nuclear weapons pretty quickly, given our scientific and technological capabilities", he was quoted saying in the report, which added that surveys in recent years supported such a move and some analysts argued that giving Seoul such an option would make things safer for the US as well.
Jim Pollard is an Australian journalist based in Thailand since 1999. He worked for News Ltd papers in Sydney, Perth, London and Melbourne before travelling through SE Asia in the late 90s. He was a senior editor at The Nation for 17+ years and has a family in Bangkok.