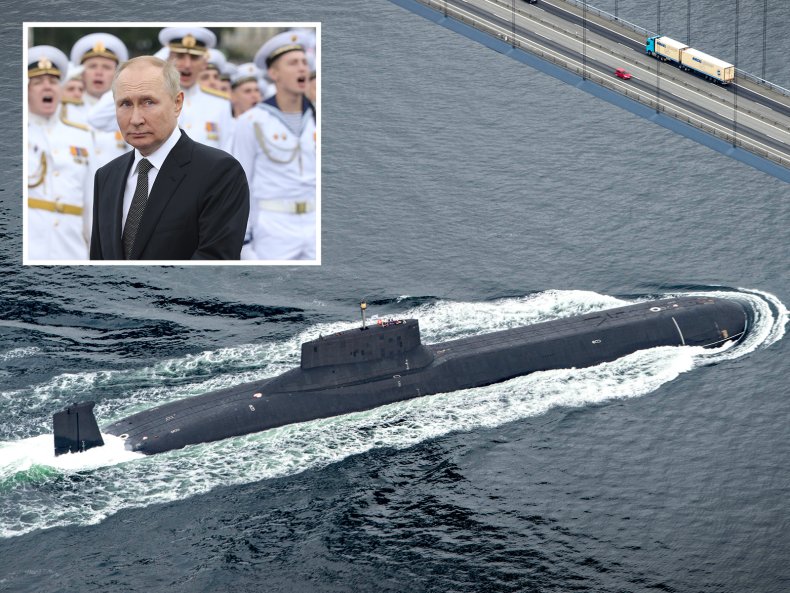 By Jack Dutton On 1/17/23 at 9:25 AM EST
On Monday, Russia's state-owned media agency TASS reported that the country had developed its first set of "unstoppable" Poseidon nuclear-capable super torpedoes, which a pro-Vladimir Putin TV host said is capable of causing a tsunami that could drown the U.K. under a 500-meter tidal wave of radioactive seawater.
Quoting an unidentified source close to Russia's military, TASS said that Russia's Belgorod nuclear submarine will receive them "in the near future."
The news agency also said that the crew of the submarine has already completed tests with models of the weapon.
The Belgorod could carry up to eight Poseidons, according to a U.S. Congressional Research Service (CRS) report.
Poseidon was first announced by President Vladimir Putin in 2018. Putin said it was fundamentally a new type of strategic nuclear weapon with its own power source.
Putin boasted at the time: "They are very low noise, have high maneuverability and are practically indestructible for the enemy.
"There is no weapon that can counter them in the world today."
In the speech, Putin said the range of the torpedo would be unlimited and that it could operate to extreme depths at speeds much faster than any other submarine or other torpedoes.
What Are Poseidon Torpedoes?
TASS reports that these nuclear weapons are "practically indestructible."
The weapons have their own nuclear reactor to power the torpedo.
Sidharth Kaushal, a research fellow for seapower and missile defense at British defense think tank RUSI, told Euronews.next that the weapon is about 20 meters long, can go 1,000 meters deep and has a range of at least 10,000 kilometers.
It is estimated to have a top speed of 50 nautical mph (90 km/ph), about double as quick as a conventional submarine and much harder to detect.
Many of its other capabilities are shrouded in mystery, as Russia has been careful not to release too much information about it.
But both Russian and U.S. officials have claimed Poseidon is capable of causing radioactive ocean swells that would leave coastal cities uninhabitable.
Shaun Burnie, a senior nuclear specialist at Greenpeace, told Newsweek in 2022 that the yield of Poseidon is up to 100 megatons—about seven thousand times more than the nuclear bomb dropped on Hiroshima, which devastated the whole city and immediately killed an estimated 80,000 people.
In May 2022, just over two months into Russia's unprovoked invasion of Ukraine, popular state TV anchor Dmitry Kiselyov claimed that the Poseidon drone "could drown Britain in a radioactive tsunami."
Newsweek has contacted nuclear analysts for comment on Poseidon.
On Sunday, the U.K. became the first country to commit to supply Ukraine with its own tanks to fight the Russians. British Prime Minister Rishi Sunak's office said in a statement that his country will supply Challenger 2 tanks to Ukraine, after he spoke with Ukrainian President Volodymyr Zelensky.