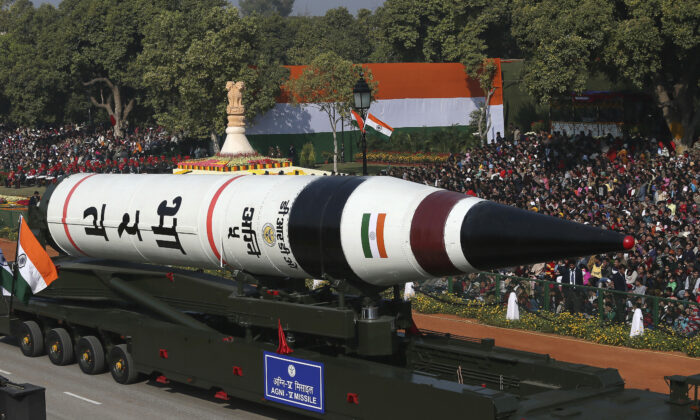 The long range ballistic Agni-V missile is displayed during Republic Day parade, in New Delhi, India, on Jan. 26, 2013. (Manish Swarup/AP Photo)
By Aldgra Fredly
December 15, 2022 Updated: December 16, 2022
India on Thursday carried out a test launch of a long-range nuclear-capable ballistic missile, Agni-5, which came days after a renewed clash between Indian and Chinese troops along the disputed Himalayan border.
Indian Parliamentary Affairs Minister Pralhad Joshi said the successful launch of Agni-5 from Abdul Kalam Island in eastern Odisha state marked a "historic milestone" for the country's defense industry.
"The missile will add great value to the defense and strengthen national security to a greater extent as it can travel 5400+ plus kilometers," Joshi said on Twitter.
The Agni-5 uses a three-stage solid-fueled engine and is capable of striking targets at ranges up to 5,000 kilometers (around 3,100 miles) with "very high degree of accuracy," according to the Indian Ministry of Defense.
This was not the first time India test-fired a surface-to-surface Agni-5 ballistic missile. The ministry test-fired one on Oct. 27, 2021, which it said reaffirmed India's policy to have "credible minimum deterrence" that underpins its commitment to "No First Use."
India's "No First Use" policy stipulates that nuclear weapons will only be used in retaliation against a nuclear attack on Indian territory or Indian forces.
Renewed Clashes
The recent Agni-5 missile launch came on the heels of fresh tensions between India and the Chinese regime following clashes between their troops along the disputed Himalayan border on Dec. 9.
Defense Minister Rajnath Singh said that Indian troops prevented Chinese soldiers from crossing the line of actual control (LAC) at the Tawang Sector in India's northeastern state of Arunachal Pradesh, a territory that China claims as its own.
"The Chinese attempt was contested by our troops in a firm and resolute manner," Singh told parliament.
The border clash resulted in minor injuries on both sides. Singh said that India's commander met with his Chinese counterpart following the incident and demanded that Chinese troops "refrain from such actions."
This has occurred as a video of an earlier unreported violent brawl between Chinese and Indian troops believed to have taken place in September 2021 in Arunachal Pradesh went viral on social media this week.
Pentagon Press Secretary Brigadier General Pat Ryder said the United States will "fully support India's ongoing efforts to de-escalate" the situation and is closely monitoring developments.
"We have seen the PRC continue to amass forces and build military infrastructure along the so-called LAC," Ryder told reporters on Dec. 13, referring to China's official name, the People's Republic of China.
"It does reflect though, and it's important to point out, the growing trend by the PRC to assert itself and to be provocative in areas directed towards U.S. allies and our partners in the Indo-Pacific," he added.
The Chinese Communist Party (CCP) didn't acknowledge the skirmish in its daily media briefing on Dec. 13.
"As far as we know, the China-India border area is generally stable, and both sides have maintained smooth communications on boundary-related issues through diplomatic and military channels," spokesman Wang Wenbin said when asked to comment on India's official statement on the clash.
The border clash happened just days after the CCP criticized the India-U.S. joint military drill in Uttarakhand, about 62 miles from the LAC, which it claimed violated the spirit of relevant agreements signed by both sides in 1993 and 1996.
The last time a major bloody clash occurred between the two armies was on June 15, 2020, in Galwan in eastern Ladakh in the northeastern Himalayas, in which 20 Indian soldiers and 40 PLA soldiers died. The Chinese regime claimed only four died in that conflict, but Indian and Russian sources refuted it. That skirmish also happened due to the border infrastructure India was building in the region.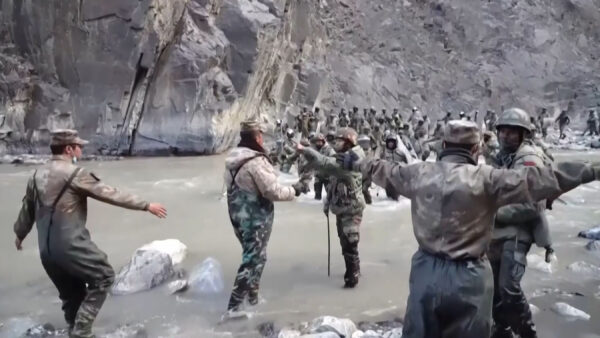 Greater Concern
Retired Col. Vinayak Bhat, a satellite imagery expert and an Indian military intelligence veteran told The Epoch Times that there are greater things that should concern India in Arunachal Pradesh.
He claimed that Chinese troops had intruded deep into Indian territory and had already built underground bases and underground headquarters in the Indian region they have occupied.
"India must take strong measures to ensure that no further loss of territory takes place. India and the Indian Army are capable of handling these small clashes," Bhat said, adding that the Indian Army will further take appropriate steps to ensure that there is no loss of territory or escalation of conflict.
Venus Upadhayaya contributed to this report.