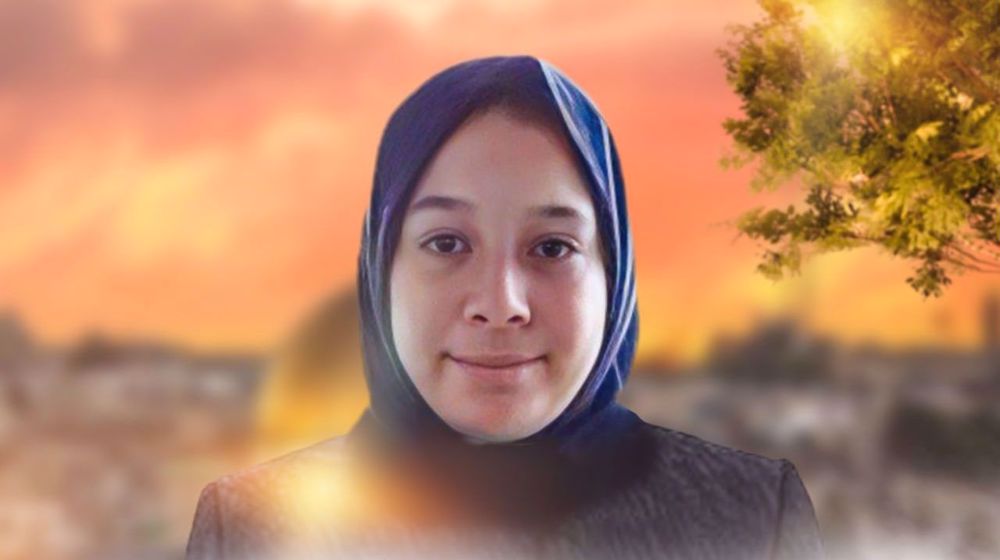 Monday, 12 December 2022 2:02 PM [ Last Update: Monday, 12 December 2022 2:25 PM ]
This photo shows Palestinian teenage girl, Jana Majdi Zakarneh, who was killed by an Israeli sniper during a raid on the occupied West Bank city of Jenin. (Photo via Twitter)
The Palestinian Hamas resistance movement has called for mass mobilization against Israeli military forces and settlers' attacks throughout the occupied territories, after the Israeli army killed a Palestinian teenager during a raid in the northern West Bank city of Jenin.
Hamas, in a statement released on Monday, mourned the death of 16-year-old Jana Majdi Zakarneh, who was found dead on the rooftop of her family home after an Israeli sniper targeted her and fatally shot her in the head.
Targeting minors is a heinous crime that Israeli authorities must be held accountable for, the Gaza-based movement stated.
It also hailed the Palestinian resistance fighters who managed to withstand the Israeli military operation in Jenin.
Hamas underlined that the Palestinian resistance front is ready to confront the Israeli regime's ongoing acts of aggression and liberate the holy al-Aqsa Mosque in the Old City of al-Qus.
According to the official Palestinian news agency Wafa, Israeli military forces stormed the Eastern neighborhood of Jenin city onboard several armored vehicles late on Sunday.
Jana's family said the soldiers fatally shot her while standing on the rooftop of their home.
The Palestinian Ministry of Health said two people were also injured during the raid.
Local sources said Israeli soldiers also broke into a number of houses and violently ransacked them, before taking away Hasan Ahmad Mer'ey, 30, along with 40-year-old Tha'er Jihad Hanthawi, and his brother Mohammad, 33, to an unknown location.
A general strike was declared in Jenin after the news of Jana's death broke, and hundreds of people took to the streets to protest the ongoing Israeli aggression against the city and the daily killing of young Palestinians.
Israeli forces have recently been conducting overnight raids and killings in the northern occupied West Bank, mainly in the cities of Jenin and Nablus, where new groups of Palestinian resistance fighters have been formed.
Since the start of 2022, Israeli troops have killed more than 210 Palestinians, including more than 50 children, in the occupied West Bank and East al-Quds as well as the besieged Gaza Strip.
According to the United Nations, the number of Palestinians killed by Israel in the occupied West Bank this year is the highest in 16 years.
Local and international rights groups have condemned Israel's excessive use of force and "shoot-to-kill policy" against Palestinians.
---
Press TV's website can also be accessed at the following alternate addresses: