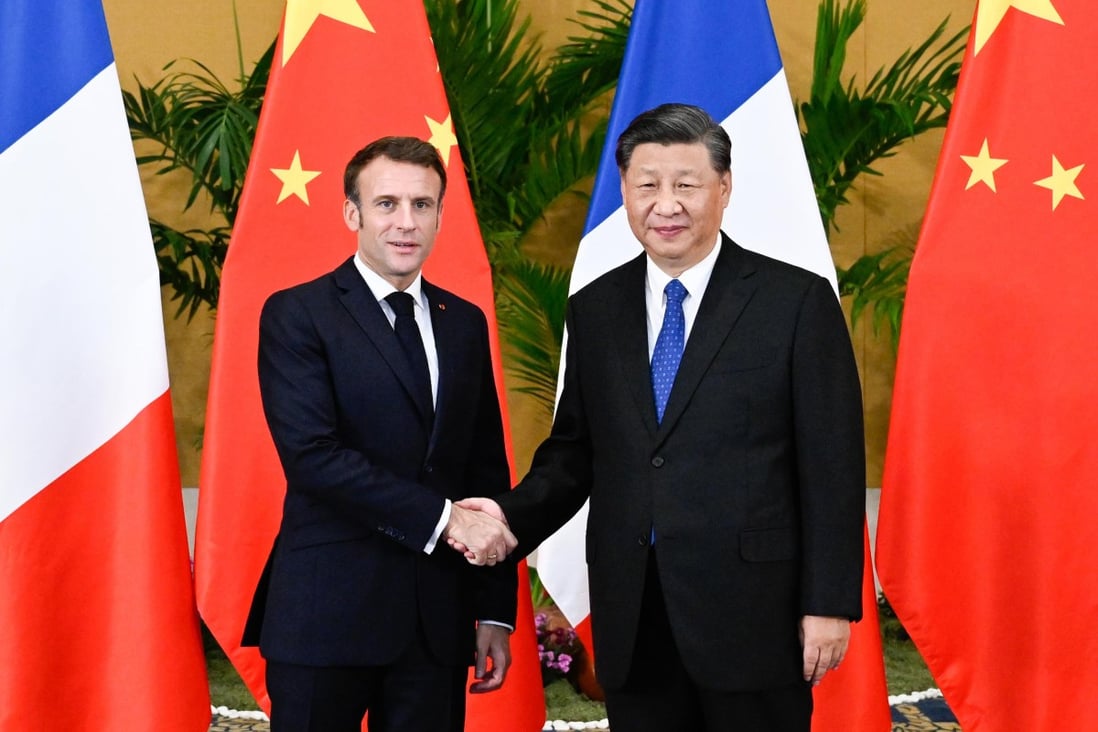 Xi's stance on nuclear weapons seen as a rebuke to brinkmanship by Russia's Vladimir PutinAppeals from French President Emmanuel Macron and Dutch Prime Minister Mark Rutte follow similar efforts by US and German leaders
Finbarr Bermingham in Brussels
French President Emmanuel Macron and Chinese President Xi Jinping at the Group of 20 meeting in meets with French President Emmanuel Macron in Bali, Indonesia on Tuesday. Photo: Xinhua
European leaders met with Chinese President Xi Jinping on Tuesday in Bali, securing his opposition to the use of nuclear weapons, a move seen as a rebuke to the brinkmanship of Russia's Vladimir Putin.
Leaders of France and the Netherlands drew the commitment from Xi during a flurry of meetings on the sidelines of the G20 leaders summit, according to their respective post-meeting communications. Their efforts follow similar appeals from US President Joe Biden on Monday and German Chancellor Olaf Scholz in Beijing earlier this month.
It suggested a coordinated approach from Western leaders, who despite almost 10 months of Russian aggression against Ukraine that is yet to be condemned by China, continue to hope that Beijing can exert some influence on Moscow's behaviour.
"One of the reasons [Xi] is saying it repeatedly is because European leaders – and Biden – are pressing the same point," said Andrew Small, senior transatlantic fellow with the German Marshall Fund's Asia Programme.
Following a meeting with Xi, Mark Rutte, the Dutch prime minister, said on Twitter that the Chinese leader "expressed his opposition to threats to use nuclear weapons – an important message to Russia".
Earlier, a French readout of President Emmanuel Macron's meeting with Xi said they had "reaffirmed their firm position on the prevention of the use of nuclear weapons".
Xi also met with Spanish Prime Minister Pedro Sanchez, who described China as a "key partner in dealing with global challenges and crises stemming from the war in Ukraine".
"Xi Jinping emphasised that China's position on the Ukrainian crisis is clear and consistent, advocating ceasefire, cessation of war and peace talks. The international community should create conditions for this, and China will continue to play a constructive role in its own way."
Analysts suggested the discrepancy in messaging showed that Beijing viewed the mentioning of nuclear weapons as a "low-cost effort to communicate China's positive slogans to other countries without necessarily committing to anything".
"Since this is Xi's first big international appearance after the beginning of the pandemic, it makes sense that he went full in the diplomatic engagement with other leaders," said Francesca Ghiretti, a Brussels-based analyst of EU-China relations at the Mercator Institute for China Studies, a German think tank.
"It is a perfect opportunity to meet in person and there was no point in missing."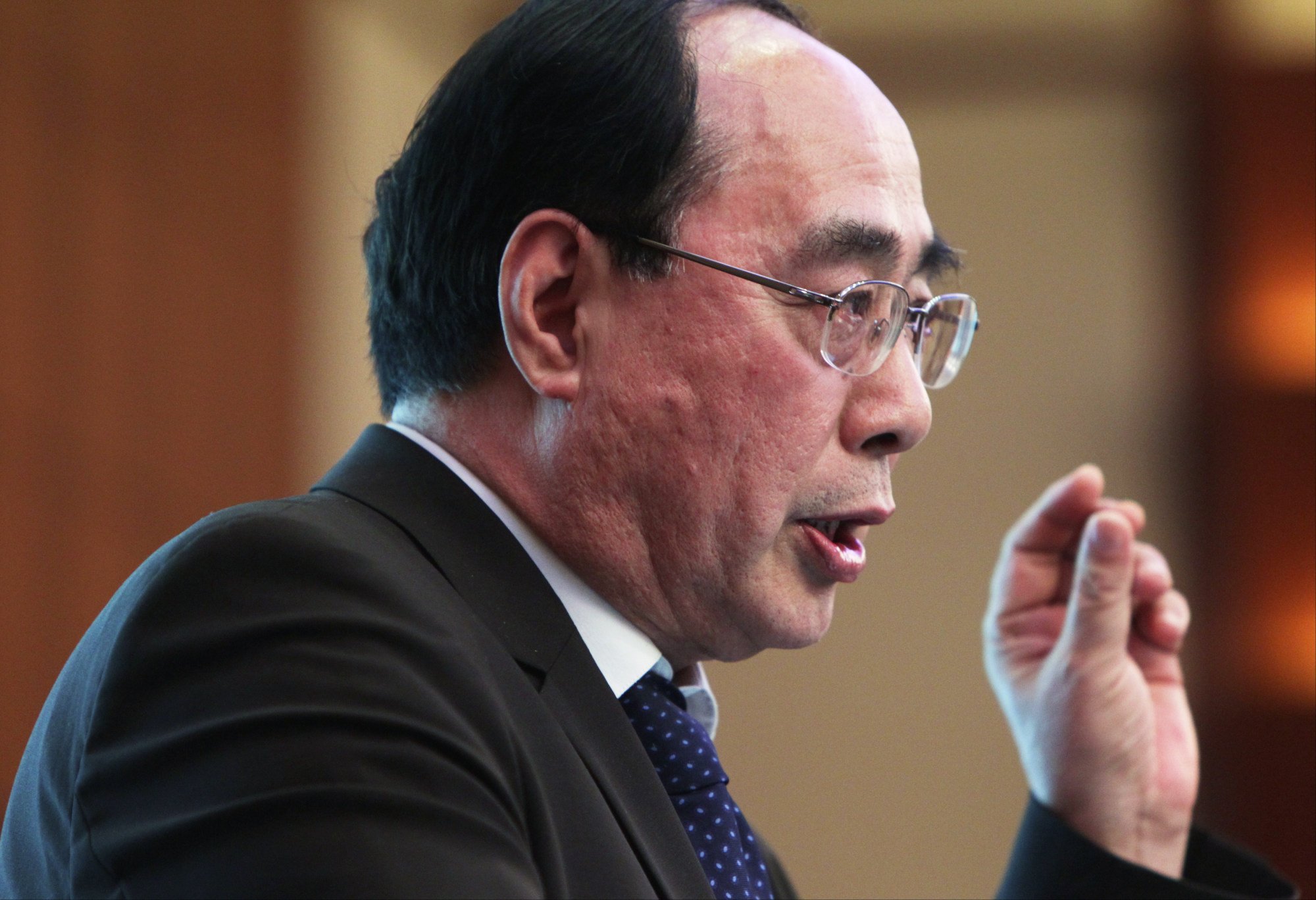 Wu Hongbo, China's special envoy to western Europe, has made several trips in recent months to work on bilateral relations. Photo: Jonathan Wong
Since the early days of Russia's invasion, European officials have pressed Beijing to use its influence on Moscow to end the war.
EU diplomats say that in meetings, Chinese counterparts are eager to distance themselves from the Russian aggression, but stop short of offering any condemnation.
Wu Hongbo, China's special envoy to Europe, has made several trips to western Europe in an effort to stem the deterioration of ties, while Beijing's envoy for Central and Eastern Europe, Jiang Yu, has done the same for that region.
"The relatively positive vibe in Chinese coverage on the Xi-Biden summit does suggest there is a desire in Beijing to put a floor under things," said Sense Hofstede, a research associate specialising in China at the Clingendael Institute, a Dutch think tank.
Xi used his meeting with Rutte to call for "cooperation, instead of seeking decoupling". Hofstede said both sides have bristled over US efforts to force Dutch microchip giant ASML to stop selling to Chinese clients.
"The call by Xi Jinping to avoid decoupling in order to protect the global supply chain and not politicise trade are about the general issues, but I cannot help but read Chinese worries about ASML in it," he said.
"I think the Dutch government is unhappy with the extent of the pressure from the United States on what it sees as a national tech champion, and at the same time it is facing growing domestic wariness about China."
There is some scepticism about how far Beijing is willing to go along with EU demands on Russia. Officials note that China is neither "over-complying" with Western sanctions, nor have they seen any evidence of military support from Beijing for Moscow.
However, one EU diplomat pointed to a UN General Assembly vote on Monday – China joined Syria, Belarus, Cuba and Iran among others in rejecting a resolution calling for Russia to pay Ukraine for war reparations – as evidence that Beijing was still rhetorically siding with Moscow.
Italian Prime Minister Giorgia Meloni at the G20 leaders summit in Bali. Italian media has reported that Xi plans to meet with her on Wednesday. Photo: Reuters
The Washington Post reported on Tuesday that China and Russia opposed the inclusion of the word "war" in the G20 draft communique, highlighting the balancing act Beijing is playing to audiences at home and abroad.
"Ultimately, the litmus test will be to see if communication remains open after the summit," Ghiretti said.
Italian media reported that Xi is expected to meet Giorgia Meloni, the new far-right prime minister and staunch critic of China, on Wednesday.
During a meeting on Tuesday, Meloni and Biden agreed to "coordinate responses to a range of global challenges, including those posed by the People's Republic of China".
There is also some speculation that Xi will meet with Rishi Sunak, the new British prime minister who this week walked back some of his hawkish rhetoric towards China during the Conservative Party leadership race this summer.
Speaking to reporters on the flight to Bali, Sunak hinted that he would ditch plans to declare Beijing "a threat" to Britain's national security.