By Tom O'Connor On 10/27/22 at 6:42 PM EDT
With tensions high across the disputed region of Kashmir, Pakistan's ambassador to the United States has warned of a serious threat of escalation 75 years after his nation's first war with India, and this includes the looming possibility that the two rivals could turn to their strategic arsenals should a fight erupt.
"That risk is always there," Ambassador Masood Khan told Newsweek. "Pakistan and India are nuclear weapons states and the situation in the Indian Occupied Jammu and Kashmir is very, very turbulent."
Khan's comments coincided with the so-called "Black Day" observed by many Kashmiris and others across the globe in support of their separatist cause. The date harks back to October 27, 1947, two months after the United Kingdom's partition of India and Pakistan when troops of a newly independent India arrived in the Kashmiri capital of Srinagar to aid Hindu Maharaja Hari Singh as he faced an armed Muslim revolt in the midst of attempted neutrality between the two newly independent states.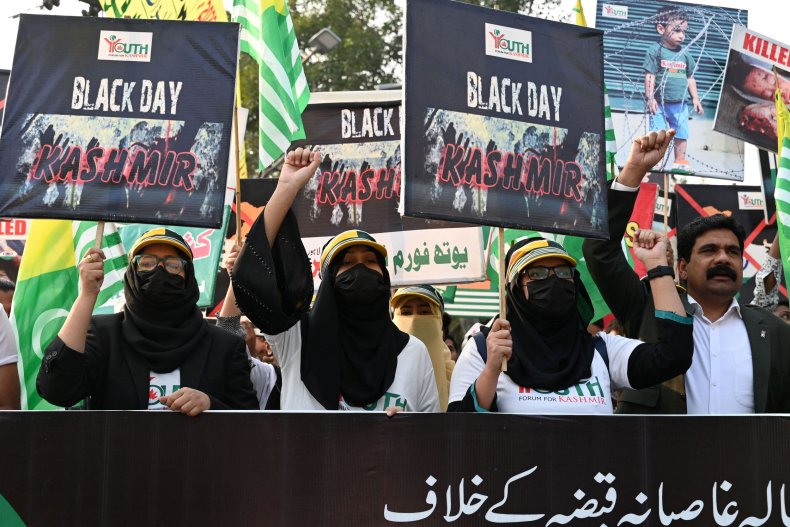 The conflict led to the first Indo-Pakistani war, but it would not prove the last. The two nations fought three more major conflicts with even more frequent clashes occurring across the Line of Control dividing them in Kashmir.
While ties between Islamabad and New Delhi have fluctuated over the years, they've been particularly strained since Indian Prime Minister Narendra Modi dissolved India-administered Jammu and Kashmir's semi-autonomous status in August of 2019 and ordered a crackdown to stem a three-decade insurgency he has widely blamed on Pakistan.
Now, Khan said the situation "is deteriorating" as he accused India of orchestrating population transfers to settle Hindus into the majority-Muslim region and of committing an array of human rights violations.
But even as the situation approached a critical point, he appealed for both bilateral and international mediation to improve ties with New Delhi and avoid further escalation.
"It is the responsibility of the two countries to come to a peace table to resolve outstanding issues," Khan said. "But the risk is that right now there is no diplomatic contact between India and Pakistan at all, no diplomatic conduit. This is perilous."
"The two sides should be communicating and talking," he added, "especially because of the precarious situation in the Indian Occupied Jammu and Kashmir."
As demonstrations arose in Pakistan on Thursday, India celebrated the day as a victory. Indian troops held a ceremony featuring jet fighters and a reenactment of their landing in Srinagar three-quarters of a century ago.
Indian Defense Minister Rajnath Singh praised the legacy of the operation as well as Modi's 2019 repeal of Article 370, which ensured Jammu and Kashmir's special status, saying the territory had now entered "a new era of peace and progress."
Violence was never too far away, however, amid fresh unrest that same day in which police in India-administered Jammu and Kashmir said a militant was killed in Kulgam district. Another, said to be a member of the Lashkar-e-Taiba Islamist militant group, was captured alive a day earlier after clashes during a counterterrorism operation in Baramulla district that left one Indian soldier dead and a search for a Pakistani national, according to local law enforcement.
The latest strife came just a day before the two-day Special Meeting of the United NationsSecurity Council Counter-Terrorism Committee was set to be held in Mumbai on Friday.
In his remarks, Singh also argued that Pakistan was "fully responsible for inhuman incidents against innocent Indians" in Pakistan-administered Azad Kashmir and "will face the result of its atrocities."
"Today, the region of J&K and Ladakh is touching new heights of development," he added. "This is just the beginning. Our aim is to implement the resolution unanimously passed in Indian Parliament on February 22, 1994 to reclaim remaining parts, such as Gilgit and Baltistan."
The two regions are located on Pakistan's side of the Line of Control. And as Indian officials, such as External Affairs Minister Subrahmanyam Jaishankar, continued to lodge accusations that Pakistan was supporting militant groups, Khan rejected this narrative and portrayed the conflict as one of an unarmed people facing one of the world's strongest militaries.
He accused India of having "hubris" due to "its great power status" through which India assumes "it would get away with whatever it is doing in Kashmir."
"But this may not be true at all in the long run, as this might affect the general dynamics of Indian polity as well," he added. "I mean, if you're imposing injustice in the occupied territory that pattern can travel to other parts of India. That pattern had manifested in the form persecution of Muslims and other minorities in India itself."
With the relationship between Islamabad and New Delhi virtually frozen, Khan argued that the two governments should work to find a venue to outline and resolve their issues once and for all.
"We in Pakistan, the people of Jammu and Kashmir, believe in diplomacy," Khan said. "We think that the right vehicles are the United Nations or we should have peace tables in Srinagar or Muzaffarabad, the capitals of India-occupied Jammu and Kashmir and Azad Kashmir, or Delhi or Islamabad or a third country."
"But the most suitable places would be New York or Geneva," he added. "We should have talks to put this issue on the table again, and resolve it for all times to come. It can't be swept under the carpet. This would be good for both countries and the people of Jammu and Kashmir."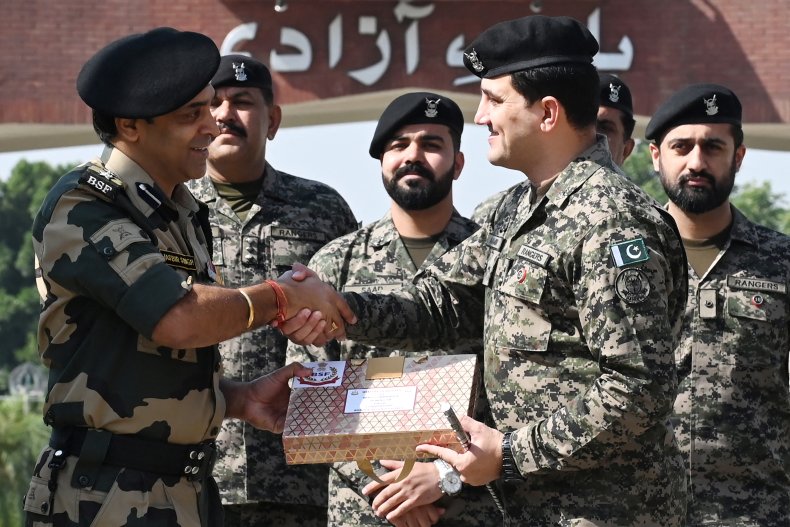 Such an effort at the U.N., he said, may finally lead to a breakthrough on the territory's status, which remains unofficially disputed in the eyes of the international body, even as India reserved the right to govern its side of the Line of Control the way it saw fit.
"If it is their territory, as they claim, then go to the United Nations hold a referendum and the people of Jammu and Kashmir will decide whose territory it is. And if the people decide in their favor, then they can impose their writ," Khan said. "But if the people of Jammu and Kashmir make an alternative choice, that they would rather join Pakistan, then India should respect that verdict."
But Khan also acknowledged what he saw as a lack of international focus on the issue, given the multitude of crises plaguing the geopolitical climate.
"The international community's bandwidth about Jammu and Kashmir has shrunk because of many other factors," Khan said, "such as the Ukraine war, and also many other international developments."
"So, nobody's talking, for instance, in the United Nations or around the United Nations about the resolution of the Jammu and Kashmir dispute or the right to self-determination of the people of Jammu and Kashmir, which was promised to them by the United Nations Security Council," he added. "We must revive multilateral diplomacy to ascertain the wishes of the people of Jammu and Kashmir."
Even the latent nuclear threat posed by tensions between two rivals who have been known to go to war—the only two nuclear powers to have openly done so, albeit through conventional arms—has been overshadowed by the rhetoric on weapons of mass destruction being put forth by far more powerful nations.
As Russian President Vladimir Putin warned he would use nuclear weapons to defend his nation's territory amid perceived threats by Western powers backing Ukraine, President Joe Biden has repeatedly warned his counterpart in the Kremlin that the United States would take action.
And as India and Pakistan marked their opposing narratives over the history of October 27, the Pentagon released its Nuclear Posture Review highlighting the Biden administration's efforts to deter adversaries with the full extent of the U.S. military's own arsenal.
"Nuclear weapons are developed for deterrence, you deter your adversaries and enemies from attacking you, you secure yourself," Khan said. "But when you're talking about the use of nuclear weapons, you have to demonstrate the utmost responsibility and restraint. Rhetoric about use of nuclear weapons comes cheap, but its consequences are disastrous, catastrophic."
In fact, Khan warned, "even if a small weapon, hypothetically speaking, was used in any theater, that would lead to a nuclear winter."
"Just one part of the world will not be affected; it will be the entire globe," he said. "And it would have a detrimental impact on climate change, food security or there would be a nuclear winter, but it would impact people's health adversely."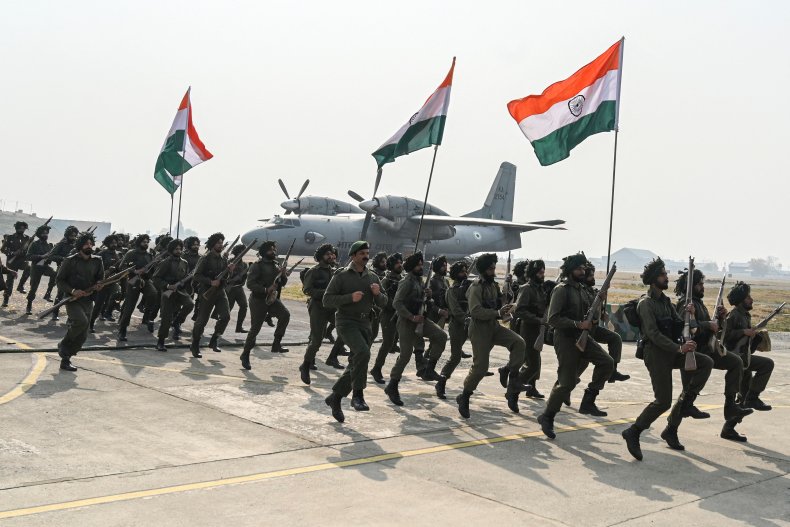 Pakistan's nuclear arsenal recently became the subject of controversy between Washington and Islamabad when Biden referred to Pakistan as "maybe one of the most dangerous countries in the world" because it had "nuclear weapons without any cohesion" during a reception with Democratic senators.
Though White House Press Secretary Karine Jean-Pierre dismissed the ensuing fallout by saying Biden's words were "nothing new" for the U.S. leader's position, the State Department contradicted the president's remarks, saying "the United States is confident of Pakistan's commitment and its ability to secure its nuclear assets."
The Pakistani Foreign Ministry, for its part, fired back at the time, expressing its "disappointment and concern" over "the unwarranted remarks, which were not based on ground reality or facts." The statement defended Pakistan as "a responsible nuclear state" with an "impeccable stewardship of the nuclear program and adherence to global standards and international best practices" as acknowledged by the International Atomic Energy Agency.
"The real threat to international peace and security was posed by violation of global norms by some states, repeated nuclear security incidents without any accountability, and arms race between leading nuclear weapon states and introduction of new security constructs that disturb regional balance," the statement said.
"It was essential to maintain the positive trajectory of Pakistan-US relations and the close cooperation between the two sides to build regional and global peace," it added.
Khan echoed the need for stronger ties between the two nations, who have a long history of partnership, both through the Cold War and the "War on Terror." And he said it was important to define these relations beyond simply the scope of regional issues such as the rivalry with India.
And when it comes to the potentially devastating effects of weapons of mass destruction, he said "one has to be very responsible, particularly the big nuclear weapon states because their pronouncements are monitored very, very closely."
"And therefore, they should act as a role model for other nuclear weapon states or non-nuclear weapon states," he added. "So I would say demonstration of restraint and responsibility is of utmost importance."
Newsweek has contacted the Indian Embassy in Washington, D.C., for comment.