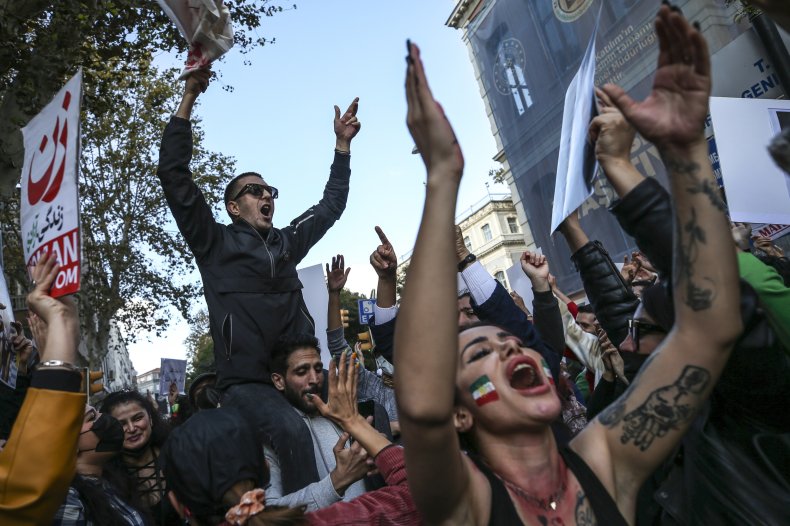 BY BRENDAN COLE ON 10/18/22 AT 8:33 AM EDT00:33
Protesters Cut Hair And Burn Hijabs After Iranian Woman's Death In Custody
"The level of repression and authoritarianism and brutality that is taking place in Iran cannot go on—something will have to give," Javaid Rehman, whose duties include monitoring and investigating human rights violations in Iran and reporting to the U.N. General Assembly on the human rights situation there, said. "Otherwise, there is a real risk that the people will rise and it will be beyond the control of the Iranian authorities."
Demonstrations throughout the country have gathered momentum following the death of Mahsa Amini, a 22-year-old woman who had been arrested by morality police in Tehran on September 13 for an alleged breach of the country's strict dress code for women.
The reports that she had been beaten with a baton contrasted with the authorities' explanation that she had suffered a heart attack three days later—an explanation that was deemed implausible by most.
Anger expressed in protests at her funeral in her home city of Saqqez in Kurdistan province has swelled and morphed nationally into demands for freedoms and an overthrow of the state.
Videos show women defiantly setting their headscarves on fire and cutting their hair in public to chants of "Woman, life, freedom" and "Death to the dictator" in reference to the Supreme Leader, Ayatollah Ali Khamenei.
There has also been anger directed at President Ebrahim Raisi, who since he took office in 2021, has increased policing of the dress code for women. Human rights groups say Raisi should be held accountable for the executions of 30,000 detained leftists in 1988 while chief prospector of the Tehran revolutionary court, although he has denied involvement.
Rehman said that although women and girls have taken part in such protests in Iran for decades, there is an unprecedented fervor to these demonstrations which involve more younger people hungry for change.
"There is a certain amount of passion and a feeling that enough is enough insofar as the repression and brutality and violence against women and girls is concerned," he told Newsweek.
Sarah, a 21-year-old from Mahabad, in Iran's West Azerbaijan Province, who did not give her last name, is among those agitating for change. An activist with the MEK Resistance Units, which supports the Iranian opposition movement People's Mojahedin Organization of Iran, she described the protesters as coming from all walks of life in a "most beautiful and lasting alliance."
"The people are fed up with this regime," she told Newsweek. "The extent of the uprising in different cities shows that there is an atmosphere of unity and there is hope."
She believed the protests had "passed an important milestone" and that those demonstrating had a "common dream for the freedom of a great nation."
"It is a common goal for a common dream for the freedom of a great nation. We have been waiting for this uprising for several years and have planned for it. With all the risks that we have, we will continue this way until the overthrow of this mullah's regime."
"The work of this regime is violence, thousands of people go to prison," Sarah said, "but can they kill and imprison 80 million?"
"We want the western and the U.S governments to stand by the Iranian people and to recognize the right of the people to resist and overthrow. Right now this regime has weakened and people are fed up with it," she added.
Violent clashes have broken out at times, with protestors torching buildings of the security forces. The crackdown on protests across 191 cities over 33 days had led to around 400 deaths and 20,000 detentions, according to the People's Mojahedin Organization of Iran (MEK), an opposition group looking to establish a democratic Iran.
Strikes have been reported in schools, universities and the oil sector while demonstrations have also spread to European capitals with women cutting their hair to show solidarity.
On Saturday, there was a fire at Tehran's Evin prison, which houses political prisoners. Iranian authorities say eight people were killed in the blaze. However, MEK spokesperson Shahin Gobadi told Newsweek in a statement that "at least 30 inmates were killed" and that there have been protests by inmates in other prisons shouting "Death to Khamenei," showing "that the uprising well into its second month, is moving forward."
"It is time that the West in general and U.S. in particular side with the Iranian people in their desire for overthrowing the regime and establishing a freely elected democratic republic," he added.
Last week, President Joe Biden said that the U.S. stands with the women of Iran and said Tehran has to end the violence against its own citizens simply exercising their fundamental rights." Raisi responded by accusing Biden of trying to "fan the flames of unrest" and referenced the U.S. as the "Great Satan," the Iranian state-run Fars News agency reported.
Rehman, who is being stopped by Tehran from entering the country, said he needed to be allowed access to Iran. He believed an international response was needed to push the government of Raisi to make legal and political reforms. These would pave the way for more rights for women and girls, as well as for religious and linguistic minorities.
"You can't stop protests just by adopting repression, he said, "Iran is collapsing, and they have to understand there could be very serious consequences for this regime."
Newsweek has reached out to the Iranian foreign ministry for comment.
Update 10/18/22, 11.15am. ET: This article has been updated with a statement to Newsweek by MEK spokesman Shahin Gobadi.