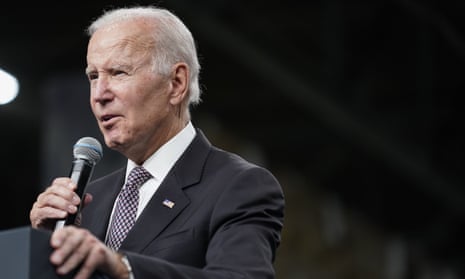 'We have not seen any reason to adjust our own nuclear posture,' says press secretary
@ChrisJSteinFri 7 Oct 2022 12.23 EDT
What's shocking about Biden's remark isn't that Vladimir Putin is considering using nuclear weapons.
The Russian president has personally threatened to do so as his military faces setbacks in its bloody invasion of Ukraine. But when the US president – who has access to information from America's spy agencies that few others do – warns that Putin is indeed serious, and compares the current moment to the 1962 Cuban Missile Crisis, then it's something else. The question is: what?
One possibility is that the utterance was part of the public rhetoric campaign the White House has been waging to warn it against using a nuclear weapon. Last month, national security adviser Jake Sullivan warned doing so would bring "catastrophic consequences".
Speaking at a Democratic fundraiser last night, Biden acknowledged a level of uncertainty about Russia's goals, and how far Putin was willing to go to achieve them. "We are trying to figure out what is Putin's off-ramp? Where does he find a way out? Where does he find himself where he does not only lose face but significant power?" Biden said.
Russia's use of a nuclear weapon in Ukraine would cause "unintended consequences" for Moscow, the White House press secretary said, while noting there's no evidence yet that president Vladimir Putin intends to use his atomic arsenal.
"Russia's talk of using nuclear weapons is irresponsible, and there's no way to use to use them without unintended consequences. It cannot happen… We won't be intimidated by Putin's rhetoric," Karine Jean-Pierre told reporters aboard Air Force One during president Joe Biden's short flight to Hagerstown, Maryland, where he is to speak about the economy.
She downplayed the possibility that the first use of a nuclear weapon in war since 1945 was imminent.
"We have not seen any reason to adjust our own nuclear posture, nor do we have indications they are preparing to use them, but Putin can de-escalate this at any time and there is no reason to escalate."
She did not comment directly on Biden's prediction last night that Russia's use of a nuclear weapon would cause "armageddon".
As he set off from the White House on yet another lengthy day of travel, Joe Biden gave the press no opportunity to ask about his "armageddon" comment.
That's from The Guardian's David Smith, who's covering the president's departure. Biden is en route now to Hagerstown, Maryland, where he'll speak about the economy, before flying to Philadelphia and finally Wilmington, Delaware, where he is to spend the weekend.
Press secretary Karine Jean-Pierre will take questions from reporters on Air Force One during the flight to Hagerstown, so we may find out more about the White House's view of Russia's intentions.
Biden 'armageddon' remark not driven by new intelligence: White House
US president Joe Biden's remark last night that Russian president Vladimir Putin was serious about using nuclear weapons in Ukraine and that doing so would risk "armageddon" was not based on any new intelligence, Semafor reports.
The president's dire assessment of the risk of nuclear war – which he said was at its highest level since the Cuban Missile Crisis 60 years ago – was instead a reflection of Washington's seriousness when it comes to Putin's increasingly strident rhetoric, a White House official said:
A WH official says of Biden comments on Putin at DNC reception last night: "The President's comments reinforce how seriously we take these threats about nuclear weapons – as we have done when the Russians have made these threats throughout the conflict."— Morgan Chalfant (@mchalfant16) October 7, 2022
"The kind of irresponsible rhetoric we have seen is no way for the leader of a nuclear armed state to speak," official says.— Morgan Chalfant (@mchalfant16) October 7, 2022
I'm told no new assessment drove his comments.— Morgan Chalfant (@mchalfant16) October 7, 2022
Good morning, US politics blog readers. The job of an American president often involves reassuring or comforting the nation during uncertain times. Joe Biden instead gave Americans a blunt assessment of reality last night, when he suggested that the Russian president, Vladimir Putin, was not kidding with his threats to to use nuclear weapons in Ukraine, and warned the world was the closest it has been to "Armageddon" in six decades. Chilling stuff.
© 2022 Guardian News & Media Limited or its affiliated companies. All rights reserved. (modern)