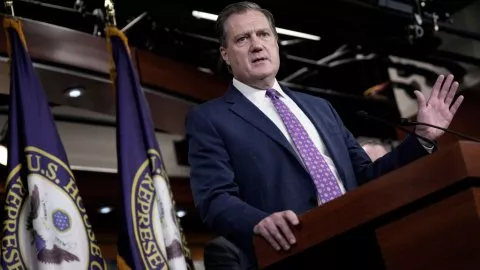 By Tom Norton On 8/12/22 at 3:10 PM EDT
Claims that FBI agents who searched Donald Trump's Mar-a-Lago estate were looking for classified documents concerning nuclear weapons have heated up speculation about the bureau's extraordinary investigation into the former president.
A Washington Post story, which relied on unnamed sources, followed earlier statements published in Newsweek that agents were seeking "national defense information,"according to two senior government officials.
Meanwhile, an exclusive report by Newsweekcited sources in the U.S. intelligence communitythat said the top secret materials could contain documents dealing with intelligence sources and methods—"including human sources on the American government payroll."The search warrant issued to Donald Trump to search his Mar-a-Lago estate in Florida is expected to be unsealed. Above, Trump greets supporters during a rally on August 5 in Waukesha, Wisconsin.Scott Olson/Getty Images
Regardless, after the FBI raided the former president's Florida residence on Monday, it has remained tight-lipped about its investigation.
That may be about to change, with details of the warrant expected to be released later on Friday, after Attorney General Merrick Garland said Thursday the Department of Justice (DOJ) was seeking to unseal it.
In the days following the raid, Trump has urged the DOJ to release the warrant immediately, even though he has refused to do so himself.
Whether the DOJ does release the warrant—and whether other revelations come out—Newsweekhas investigated what information could be revealed, Trump's history on nuclear technology and the protocol surrounding the FBI search.
According to former federal prosecutor Gene Rossi, Trump would have received a search warrant with "the list of the statute or statutes that they're looking at" and a list of items that were taken from Mar-a-Lago.
He said: "He's been given a copy, it's not sealed, there's no court order that says you can't divulge it. Donald Trump has the absolute right to tell the whole world what the documents say. So he could do that right now."
However, Rossi said, there could be implications if he released the warrant, the list of seizures or both.
"It could hurt Trump politically [if he released the list of seizures] because the public would then know what was taken from his house and there could be incriminating items," he said.
"The first page in a warrant could list more than one statute that they think was violated, and that could include, possibly, insurrection, rebellion, obstruction of a congressional proceeding. It could be a lot of things other than just a records violation.
"So politically, that's probably why he hasn't done it now," Rossi said.
He continued, "Legally, if it's unsealed and exposed to the world, in the event that he is charged, and we don't know yet, but if he is ever charged, it could affect the jury pool when he goes to trial.
"Potential jurors will read in the paper that they executed a search warrant on his home, they see certain individual items. That can be all prejudicial in the minds of potential jurors.
"And the other thing is, although embarrassment doesn't seem to be something that he is always concerned about, it's embarrassing to let the world know exactly what they took out of your house," Rossi said.Donald Trump leaves Manhattan's Trump Tower to meet with New York Attorney General Letitia James' lawyers for a deposition on Wednesday.James Devaney/GETTY
The search warrant itself would have little information on it, with a list of the statute or statutes and the date when the warrant was approved.
Rossi said that a judge could still publish these documents "even if Trump doesn't agree."
The speculation that Trump may have withheld documents relating to nuclear secrets appeared to raise questions about his administration's links to the transfer of U.S. nuclear technology to Saudi Arabia.
In 2019, Senate Democrats said the administration had approved the transfer of nuclear technology to Saudi Arabia on at least two occasions following the killing of U.S. resident and Washington Post journalist Jamal Khashoggi, allegedly at the hands of a Saudi-linked kill squad, in Turkey.
These transfers were not revealed to Congressby Trump Cabinet officials until months after they took place.
Saudi Crown Prince Mohammed bin Salman, who has accepted responsibility for the killing of Khashoggi (although he says he was not directly to blame), said in March 2018 that the kingdom would create a nuclear weapon to counter a perceived nuclear threat from Iran.
Republican staff of the House Oversight Committee said in July 2019 that there was no wrongdoing in the transfer of nuclear technology to Saudi Arabia.
Democrats previously alleged the Trump administration may have broken federal laws and guidelines in its numerous transfers of U.S. nuclear technology to the Middle Eastern country and was "rushing" the transactions.President Donald Trump holds up a chart of military hardware sales as he meets with Saudi Crown Prince Mohammed bin Salman in the Oval Office on March 20, 2018.Kevin Dietsch-Pool/Getty Images/Getty
A GOP report concluded that the Trump White House was "not rushing nuclear energy technology to Saudi Arabia," "not conflicted from deliberations to transfer nuclear energy technology to Saudi Arabia," and has "not skirted requirements for congressional notification about nuclear energy technology transfers to Saudi Arabia."
Trump's links to the Saudi elite were reestablished—and came under scrutiny—recently when he held the Saudi-funded LIV Golf tour at his club in Bedminster, New Jersey.
This was not the only major decision on nuclear technology or armaments that Trump is connected to. There was also the Intermediate-Range Nuclear Forces (INF) Treaty, which Trump pulled the United States out of during his time in office.
The INF, signed in 1987 by Soviet leader Mikhail Gorbachev and President Ronald Reagan, banned missiles with ranges of between 310 and 3,400 miles.
Before the withdrawal from the INF, Russia said it had plans to launch 4,000 war games in preparation.
Addressing the U.S. withdrawal, Russian President Vladimir Putin said: "I think it was a mistake…and that they could have gone a different path."
He added, "I do understand the U.S. concerns. While other countries are free to enhance their defenses, Russia and the U.S. have tied their own hands with this treaty. However, I still believe it was not worth ruining the deal. I believe there were other ways out of the situation."
Trump followed up by saying that Putin should back a new Strategic Arms Reduction Treaty (START) to restrict a nuclear arms race.
An extension to START was later approved by President Joe Biden. Russian President Vladimir Putin and Donald Trump shake hands before a meeting in Helsinki on July 16, 2018.BRENDAN SMIALOWSKI/AFP/Getty Images
Crucially, however, the details of the search warrant would not have information about whether the FBI's search was related to security risks surrounding nuclear weapons. That information would be contained in the affidavit that accompanied the warrant, which is likely to remain sealed for some time.
Rossi told Newsweek that if Trump faces a trial following the search, the court would likely unseal the affidavit "because before trial…he would have the opportunity to move to suppress the search warrant because it violated the Fourth Amendment."
According to a Cornell Law School article, the Fourth Amendment "originally enforced the notion that 'each man's home is his castle,' secure from unreasonable searches and seizures of property by the government." It also "protects against arbitrary arrests and is the basis of the law regarding search warrants, stop-and-frisk, safety inspections, wiretaps, and other forms of surveillance."
Rossi said, "Even then, the judge may say, I'm going to unseal it only for the purpose of allowing the defendant to file a motion to suppress the search warrant, and he may issue a protective order even then, to prevent disclosure to the public."
Backlash against the FBI's raid on Mar-a-Lago has led many Trump supporters to question whether the bureau's actions were too heavy-handed or even warranted.
Notwithstanding that no details of the search have been formally revealed, Rossi said that if there were fears that the former president had material that could threaten national security, authorities would "probably" need less probable cause to get a search warrant.
"I would suspect that if they had reason to believe that he was continuing to withhold, allegedly, nuclear secrets, military secrets, I think a judge would have an easier time to approve that search warrant," Rossi said.
He went on, "But I have to stress, this affidavit that they submitted to the judge, I would be very surprised if it was not incredibly detailed, deep in evidentiary foundation and filled with corroborating documents and witnesses to support the search warrant.
"In other words, they're not going to go in there with a five-page affidavit and say, 'Hey, we guess we're speculating. We don't have to do beyond a reasonable doubt…[but] Judge, approve it.
"I think they probably submitted a 100- to 200-page affidavit that was incredibly comprehensive and detailed," Rossi said.
So the search warrant is unlikely to contain a great amount of detail and is very unlikely to contain any information that would corroborate the claims made in the Washington Post report.
We also don't know whether Trump's reasoning for not releasing the warrant himself is wholly truthful, as there may be either political or legal implications associated with it.
We won't know until later whether the DOJ will unseal both the warrant and the list of seized items, although the latter may be less likely.
And, of course, there's the affidavit, which is unlikely to be released unless Trump is indicted. Even then, sections of it may be redacted or otherwise withheld from the public.
In any case, it's a remarkable conclusion to a week filled with allegations, rumors and speculation that is unlikely to end anytime soon.
Newsweek has examined a number of the claims and narratives surrounding the Mar-a-Lago search, as well as Trump's possible motivation for pleading the Fifth Amendment, allegedly more than 440 times, during his deposition Wednesday before lawyers from the New York attorney general's office in connection with another investigation.