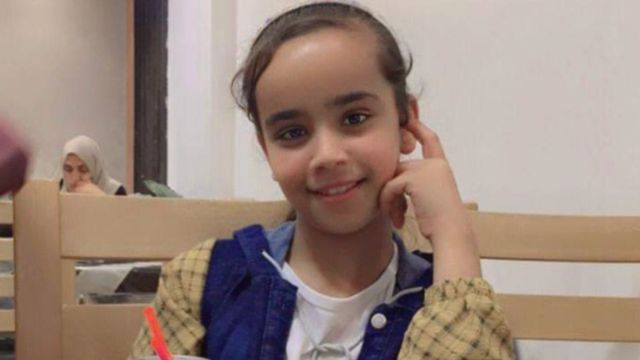 16 August 2022
Hala didn't know that danger was coming when she took her children to the beach. Her nine-year-old daughter Layan had asked to play on the sand and cool off in the waves.
As the family sped there in a tuk-tuk, they passed by a military camp run by the militant group Palestinian Islamic Jihad (PIJ). At that exact moment, it was targeted by Israeli fire.
A shell fragment pierced Layan's neck, and she slumped, bleeding, onto the floor. A week of treatment in an East Jerusalem hospital couldn't save her life.
"I'm desperate," Hala told me. "I'm supposed to be strong because I'm the mum of a martyr, but the wars I've seen have hugely impacted me and my family. All this made me hate living in Gaza."
As we spoke, she held a small cuddly toy close. It had been a special present, given to her daughter for performing in a Palestinian dabke dance show.
I asked her if she thought Layan's death would make a difference. "No, I don't think so, because many were killed before her and there's been no change," she replied. "This has never influenced decision-makers here. As if it's become normal."
After an escalation, death is all around in Gaza. This time, the ministry of health there says 35 civilians were killed.
Israel's Prime Minister, Yair Lapid, said it took special precautions to protect civilians. "The State of Israel will not apologise for using force to protect its citizens," he said, "but the death of innocent civilians, especially children, is heart-breaking."
The Israel Defense Forces said it was "devastated by [Layan's] death and that of any civilian".
I followed Layan's funeral procession from the mosque to the cemetery.
Crowds ran, waving militant flags to the sound of gunfire. As her body was lowered into the ground, men surrounded the grave, scaping the sand and dirt over it with their hands and placing a rough headstone.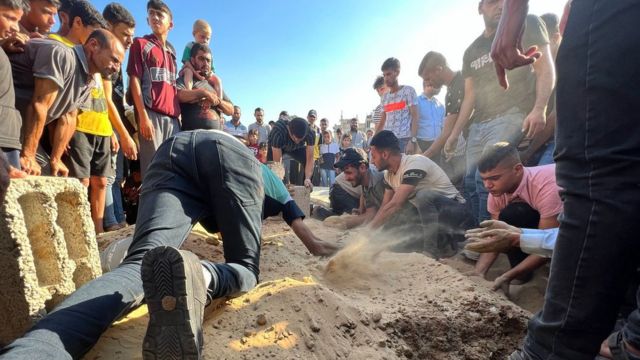 The same small graves appeared in Jabalia refugee camp too.
This time, it was five boys who'd been playing in a cemetery when there was an explosion. Israel said it was the result of a Palestinian Islamic Jihad rocket falling short. The militant groups blamed Israel.
Social media videos showed the horrific aftermath, as the boys' lifeless bodies were scooped up and taken to hospital in a desperate hope they could somehow be saved.
One of them, Mohammed, was just 17. He wanted to be a police officer, his mum explained.
"They were just kids playing. Suddenly, we heard the blast. Dads ran to the scene and carried away their dead sons," she said. "Our children got used to killing and death and bombing. They are different to others around the world, who lead a good life and go to parks – not cemeteries – to play."
In the hours after the explosion in the cemetery, a video started to go viral on TikTok. Khalil Alkahlout had run straight there to check on his own children.
As bodies were collected around him, he started to shout, and beat his chest. A friend next to him began filming. "All this for Islamic Jihad to be happy," Khalil raged. "Why is that? Because it wants Bassem Saadi to be released. This comes at the expense of blood of our little ones."
The man he mentions – Bassem Saadi – is a leader of Palestinian Islamic Jihad who had been arrested by Israeli troops in the West Bank days earlier. It was the spark for the latest escalation.
Khalil Alkahlout said the video of him criticising militant groups "hit a nerve with the people"
The likes on Khalil's online video started to grow, reaching thousands.
Public criticism of militant groups by people in Gaza is extremely rare. "People liked my video because it was spot on," he explained to me. "It hit a nerve with the people. People don't want war, don't want death, don't want children to get killed.
"When I spoke out I said the timing and the escalation were not right. Everyone sees me in the streets and tells me I've spoken what is in their hearts, what they could not say. They tell me 'Well said' and 'Well done'."
Israel started its attack on Gaza late on a Friday afternoon.
It says it had information that militants from Palestinian Islamic Jihad were planning fresh strikes on Israeli civilians. Two of the group's leaders were killed by Israeli forces.
Across the weekend, about 1,000 Palestinian rockets were fired towards Israel. Several Israelis sustained minor injuries.
The impact of each conflict stretches beyond the deaths and injuries.
Samir's granddaughter, Tuta, with her teddy in his destroyed home
I climbed in through the blown-open wall of Samir's destroyed kitchen to speak to him. His three-year-old granddaughter Tuta picked her way through the rubble as we talked.
He described how the Israeli army had called him and told him to gather his neighbours and leave, because an attack was coming. They walked to the beach and from there heard the bombs fall and explode. When Samir came back, large parts of his home were lying in ruins.
"We are psychologically unwell," he said, "We want peace, we don't want wars."
Samir doesn't know how he'll rebuild his house. It's a pattern reflected across Gaza. Building materials are hard to come across. Their import is restricted in case they're diverted for use by militants to help stage attacks on Israel.
A land and sea blockade of Gaza has been imposed by Israel and Egypt since the militant group Hamas seized full control of the tiny territory from the Palestinian Authority in a bloody internal battle in 2007, a year after it won the last general election.
The blockade has crippled the economy, but Israel says it's necessary for security reasons. It means that the physical scars of conflict often don't heal.
The UN said more than 1,700 housing units in Gaza were damaged during the escalation
Destroyed tower blocks stay flattened, with only their twisted foundations visible. Other buildings are cleared out but left empty and hollow, with little chance of reconstruction. It's another reason for Gazans to fear each new escalation.
Hamas runs the Gaza Strip. The group is designated a terrorist organisation by the US, UK and others. It says its aim is to end the Israeli occupation by any means possible, including armed struggle. It has a large stock of weapons, which it uses, firing them mainly towards border cities in Israel.
But this time it didn't join in with the fighting, though Israel and most observers would say nothing happens without their consent.
All of the rockets fired from Gaza came from Palestinian Islamic Jihad, a smaller group with less sophisticated equipment. Several of their rockets misfired, falling back into Palestinian communities and causing deaths and injuries.
The fact that Hamas stayed out of the fighting meant this latest escalation stayed contained, lasting for three days before a ceasefire was agreed. If it had joined in, the impact would have been far greater, potentially triggering a new war.
Israel said Palestinian Islamic Jihad's rocket fire threatened not only Israeli civilians, but Gazan civilians as well
So why didn't Hamas attack this time?
"I think we have to take some lessons from this, this round of confrontation," said Ghazi Hamad, the group's spokesman. "I think we have good co-operation with Islamic Jihad and we have had deep discussions with them. We have to work together as Palestinian factions. And by this way I think we can reduce the number of the mistakes, we can reduce the damage and the harms among the Palestinians."
I pressed him about the attacks on Israeli civilians carried out by Hamas, and the indiscriminate firing of rockets into civilian areas, from which Israel says it must defend itself. Targeting civilians is a war crime.
He replied: "We don't fight against anyone, just the occupation. Israel could have the ability to avoid the civilians, but I think if they want to kill someone as a fighter, they kill all the people around him in order to kill him."
After the ceasefire, Mr Lapid said he wanted to "speak directly to the residents of the Gaza Strip and tell them: There is another way." He added: "We know how to protect ourselves from anyone who threatens us, but we also know how to provide employment, a livelihood and a life of dignity to those who wish to live by our side in peace."
Gaza has one of the youngest populations in the world. Most of its children have only known a life of conflict. It affects their whole lives, and colours their dreams.
Besan Abdalsalam is about to graduate as an engineer. Along with many others her age, she heads to the beach when the day is over. Sipping mango juice as the sun sinks over the horizon, she wondered how her future will look.
"It's hard to imagine how our life would be if this ended. People would stop going to bed with tears in their eyes from losing a father, or mother, or sister. Our entire life would change," she said.
"Why can't we do as people do outside Gaza? We watch YouTubers and they are happy and do nice things. We hope for the blockade to be lifted, so we can live like them."