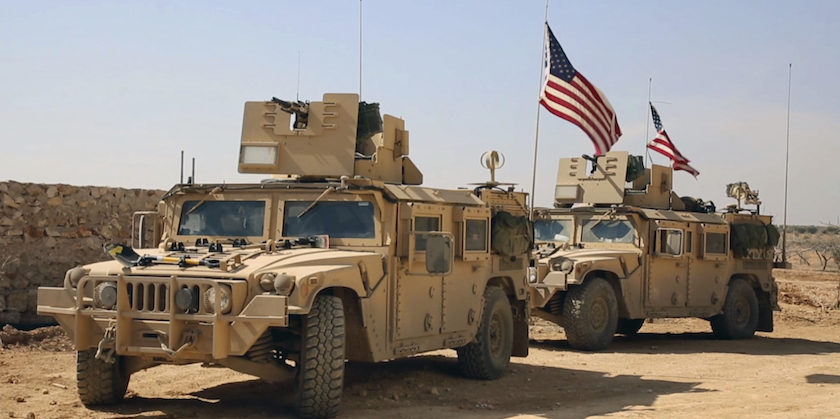 6 hours ago April 8, 2022
Four US troops were injured on Thursday after rockets hit a base housing American forces in Syria's eastern province of Deir Ez-zur.
The American troops are being treated for minor injuries and evaluated for traumatic brain injury after a Thursday indirect fire attack on the Green Village base in eastern Syria, according to a release from Operative Inherent Resolve.
The rockets struck two support buildings at the Green Village base, which is run by the so-called Syrian Democratic Forces (SDF), a US-allied, Kurdish-led militant group.
"At this time, four US service members are being evaluated for minor injuries and possible traumatic brain injuries," the US Central Command (CENTCOM) said in a statement.
The base was previously attacked in January, with eight rockets landing inside the perimeter.
The issue of traumatic brain injuries in US Central Command has gained more and more attention in the past two years, following Iran's missile attack on Iraq's al-Asad Air Base in Jan. 2020. Pentagon officials initially reported no casualties, but subsequent screenings in the following weeks found that more than 100 troops had suffered TBIs, Military Times reported.
When asked about the attack during a press conference, then-President Donald Trump downplayed the seriousness of head injuries.
"I heard that they had headaches, and a couple of other things," he said at the time, later offering amputations as an example of a more concerning injury. "But I would say, and I can report, that it is not very serious."
The reporting and tracking of those injuries came under the scrutiny of the Defense Department's inspector general in July 2020, when the office launched a project to evaluate how doctors diagnosed, treated and reported TBIs up the chain of command.
Based on the as-yet-unreleased results of the first project, a DoD IG spokeswoman told Military Times in October, the IG launched a second evaluation to dig deeper.
The attack come amid growing anti-US sentiments over Washington's military and political adventurism in the region and coincided with the second martyrdom anniversary of Iran's top anti-terror commander Lieutenant General Qassem Suleimani in a US drone strike in Iraq.
General Suleimani, the commander of the Quds Force of Iran's Islamic Revolution Guards Corps (IRGC), and his Iraqi comrade Abu Mahdi al-Muhandis, the second-in-command of Iraq's Popular Mobilization Units (PMU), were martyred along with their companions in the drone strike, authorized by former president Donald Trump, near Baghdad International Airport on January 3, 2020.
Both commanders were highly revered across the Middle East because of their key role in defeating the Daesh (ISIS) terrorist group in the region, particularly in Iraq and Syria.
Five days after the assassination, in a military operation codenamed Operation Martyr Suleimani, the IRGC launched a volley of ballistic missiles at the Ain al-Asad airbase.
Iran said the missile strike was only a "first slap" in its process of taking "hard revenge" and that it would not rest until the US military leaves the Middle East in disgrace.
Source: Agencies (edited by Al-Manar English Website)