Eryk BagshawOctober 4, 2021 — 3.48pm
Singapore: Taiwan has backed Australia's decision to acquire nuclear submarines to defend the Indo-Pacific after China launched dozens of military planes towards the Taiwan Strait.
The show of force by Beijing and the build-up of defence capability by the United States and its allies has put the region on alert for the threat of future conflict over the disputed democratic island.
Taiwan's Foreign Minister Joseph Wu on Monday said Taiwan was preparing for conflict and would "fight to the end" if China was to attack its neighbour.
"I'm sure that if China is going to launch an attack against Taiwan," he told the ABC. "I think they are going to suffer tremendously as well."
Wu said the strategic partnership signed by Australia, the United Kingdom, and the United States (AUKUS), would help balance China's military ambitions in the region. The deal allows Australia to explore options for acquiring eight nuclear submarines over the next decade that are expected to have enough range to patrol the South and East China Seas.
"We are pleased to see that the like-minded partners of Taiwan — the United States and the UK and Australia — are working closer with each other to acquire more advanced defence articles so that we can defend Indo-Pacific," he said.
"Australia is a great country, and I'm very glad to see that Australia is going to shoulder more responsibility to maintain peace and stability in the Indo-Pacific."
China has escalated its intimidation of Taiwan over the past two years, peaking with more than 80 warplanes including anti-submarine planes and bombers being sent towards the island at the weekend – 38 aircraft entered the Taiwan air zone on Friday and another 39 on Saturday. But the consensus among military analysts is that the probability of war will not increase significantly until the 2030s when China's military capability matches that of the United States.
On Sunday the US State Department called on China to put an end to its threats towards Taiwan.
Related Article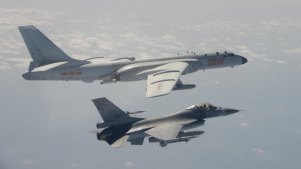 "The US commitment to Taiwan is rock solid and contributes to the maintenance of peace and stability across the Taiwan Strait and within the region," State Department spokesman Ned Price said.
"The People's Republic of China's provocative military activity near Taiwan is destabilising, risks miscalculations, and undermines regional peace and stability."
The Taiwanese government has maintained an ambiguous position on its independence, preferring to keep the status quo, which means it operates separately from China, rather than pushing for a formal break from the mainland which could trigger a military response.
Beijing has vowed to unite Taiwan with the mainland by 2049, a century after the Kuomintang set up an alternative government in Taiwan after decades of civil war.
China's Taiwan Affairs Office last week accused Wu of stirring independent sentiment.
"We are telling people like Joseph Wu: Taiwan independence is a dead end," it said. "All kinds of Taiwan independence talks are nothing more than flies buzzing. A few screams, a few sobs."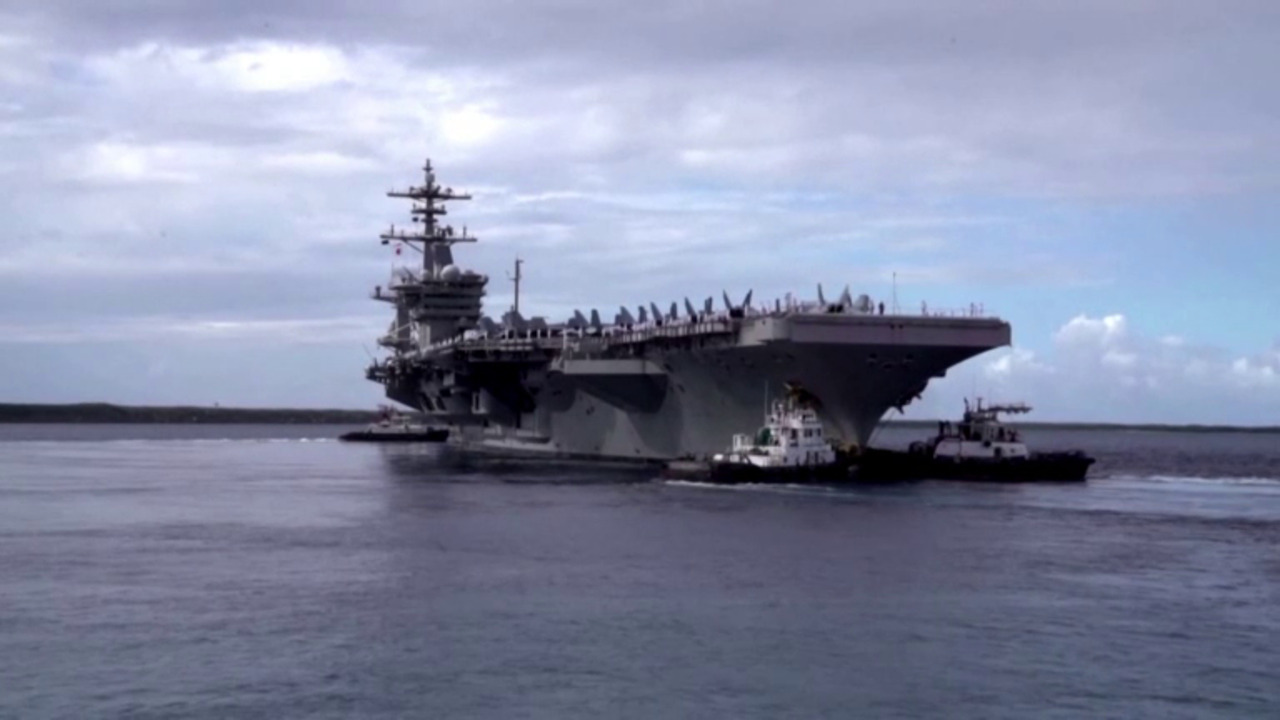 1:09
China-Taiwan tensions rise in Biden's first days
A US aircraft-carrier group has entered the South China Sea just as rising tensions between China and Taiwan are causing concern in Washington.
Dr Mark Harrison, a senior lecturer in Chinese Studies at the University of Tasmania, said Wu's comments are careful, but there is a danger that they can be misread.
"Wu's comments are strong but need to be understood in the context of the government's overall messaging, both publicly and diplomatically about Taiwan's sovereignty and democracy," he said.
Related Article
"Taiwan has limited capacity to deter Beijing by itself, but Beijing's actions are openly threatening and this demands a response from the Taiwan government. Taipei wants to show that it takes Beijing's threats seriously, and it does, and push back against Beijing's tactic of normalising the People's Liberation Army Air Force presence in the Taiwan Strait."
Australian cabinet minister Greg Hunt on Monday declined to comment on whether Australia would welcome increased intelligence and security sharing with Taiwan.
"Our hope is peace," said Hunt. "Our belief is that this can be maintained."
The Chinese Ministry of Foreign Affairs used its last press conference before China's national holidays started on Friday to accuse Australia and the US of hypocrisy in calling for Iran and North Korea to end their nuclear weapons programs.
Related Article
Ministry spokeswoman Hua Chunying said the AUKUS submarine deal could bring five dangers to the region: triggering an arms race, nuclear proliferation, undermining regional stability and ASEAN's push for a Nuclear-Weapon-Free Zone.
"Fifth, it could lead to the resurgence of Cold War mentality, provoke bloc confrontation and zero-sum geopolitical games in the region," she said.
Get a note direct from our foreign correspondents on what's making headlines around the world. Sign up for the weekly What in the World newsletter here.