Seven die in Pakistan-administered Bhimber sector on line of control as tensions rise between neighbours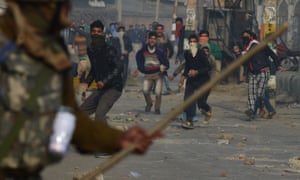 The incident happened in the Bhimber sector of the line of control, a brief statement by Pakistan's army said. "Pakistani troops, while responding to Indian unprovoked firing, targeted Indian posts effectively," it added.
Pakistan's foreign affairs ministry condemned what it described as "continuous unprovoked" firing and said the army was responding in a "befitting manner".
Pakistan has lodged several complaints with India over what it says is the targeting of civilians living on its side of the LOC. It has said at least 25 people have been killed in recent weeks.
The first attack, on the Pathankot airbase in Indian Punjab, took place in January shortly after hopes for peace in south Asia had been stoked by the surprise visit of the Indian prime minister to Lahore on Christmas Day.
Nineteen soldiers died during the second assault on a base near the town of Uri in Indian Kashmir in September.
India responded with an unprecedented series of raids across the LOC, which it described as "surgical strikes" against "terrorist launch pads", although Pakistan vigorously denied the claim.
Pakistan has criticised India's attempts to impose order on Kashmir, which has resulted in scores of casualties among protesters.
This month Islamabad named eight Indian diplomats who it accused of spying.
Earlier, Delhi announced the expulsion of a Pakistani diplomat it said was running a spy ring.